👀 Avoid Surveillance, The Future of Web Design, and Interactive Ecommerce
Play games at your favorite store
Hey everyone! Hope you're having a fantastic week. It's almost September - and Fall. Woohoo! Even though it still feels like March, maybe we can finally escape? Hopefully?
It's a very exciting week here at The Land of Random. It's our first year anniversary! It's hard to believe - but I'm over 53 issues deep.
Let's peek back at the first issue . . . Here's a link
I didn't really have a format back then. I had an inkling of an idea about what I was doing - heck - The Land of Random was called "A Little Too Obsessed."
It's come along pretty well in the last year! An established format, over 350 subscribers. It's pretty awesome. Thank you so much for subscribing - and for your feedback.
As you may recall, my goal for the end of August was 500 Subscribers. We didn't quite make it (unless a miracle occurs this week) but we're now going to chase the next goal.
1000 subscribers by October 31. 🎃 Heck, if we hit 1000 subscribers before then, I'll eat a whole Pumpkin pie on a Livestream haha . . .
On to the next 10 years of The Land of Random! 😎
Let's dive in, shall we? Grab that coffee and let's go!
👀Avoid Surveillance
There's more and more cameras popping up in public places. Some are connected to giant networks that track identities. I don't know about you, but it feels kinda like 1984 if I'm being tracked. At the moment - wearing masks is strongly encouraged and accepted - but it won't be that way forever (or will it? - I don't know). It's difficult for cameras to identify people under a mask.
As our homes, stores, and communities grow smarter - we'll see more and more cameras - and they'll see us too! Hey look! It's David! (in machine zeros and ones). You may wonder - how do we escape Big Brother?
There is a way to maintain your privacy and avoid detection.
All you need is a T-shirt or a similar piece of clothing with an Adversarial Patch.
The key is to trick the camera's neural network into ignoring you.
Here's how Param Raval from "Towards Data Science" describes the process in "Avoiding Detection with Adversarial T-shirts"
"Confusing" or "fooling" the neural network like this is called making a physical adversarial attack or a real-world adversarial attack. These attacks, initially based on intricately altered pixel values, confuse the network (based on its training data) into labeling the object as "unknown" or simply ignoring it. (Source)
Simen Thys and Wiebe Van Ranst did a study on this - and it worked pretty well! Here's a photo from their paper. (Read it here. It's very interesting)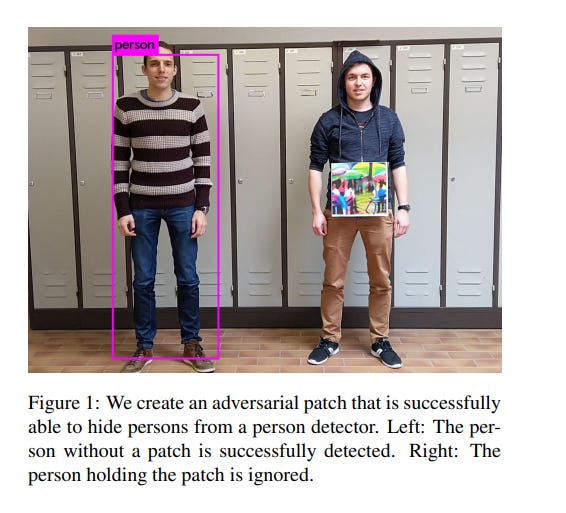 It's a pretty impressive study, and I don't think it's too much of a stretch to say that people will be purchasing clothes with patches like these in the near future.
Read Param's article at the link!
🤔The Future of Web Design?
Every once in a while - I stumble across something that makes me completely rethink my predictions for the future of web design.
A few years ago - I would have told you that Squarespace was a pretty great choice, or Elementor + Wordpress. Don't get me wrong - the latter is still a fantastic choice.
However, Webflow is growing really popular - and I'm starting to think the future of Web Design lies in the hands of Webflow + similar web builders. Webflow is basically Adobe Photoshop/Illustrator + website builder. You can do whatever the heck you want - from scratch.
People want flexibility and customization - without diving into CSS, JS, + Json for a month. Webflow brings that to the techy consumer.
Also - custom builds are getting pretty complex these days… It's amazing what people build of JS frameworks.
Honestly - I think the future of the web lies in the hands of designers like Day Job Studio. They're the brilliant minds behind Recess and Taika Coffee's websites.
After over 20 years of the internet, we're finally getting back to fun web design.
Why am I still babbling on? Here, see for yourself.
Day Job Studio - Windows 95 style site (with Doom too!)

Taika Coffee - Awesome, Fun, and beautiful website

Recess - This CBD sparkling water has the chillest website ever
Webflow Websites that I've probably shared before but I love them.
🐧 Interactive Ecommerce
I don't usually play games on my phone. I usually consume content, either on Twitter, various news sources, or social media networks. However, for the literal heck of it, I perused the ole' Google Play game store.
I saw this game called Penguin Isle - It looked pretty cute, so I downloaded it. Here's a screenshot of my island.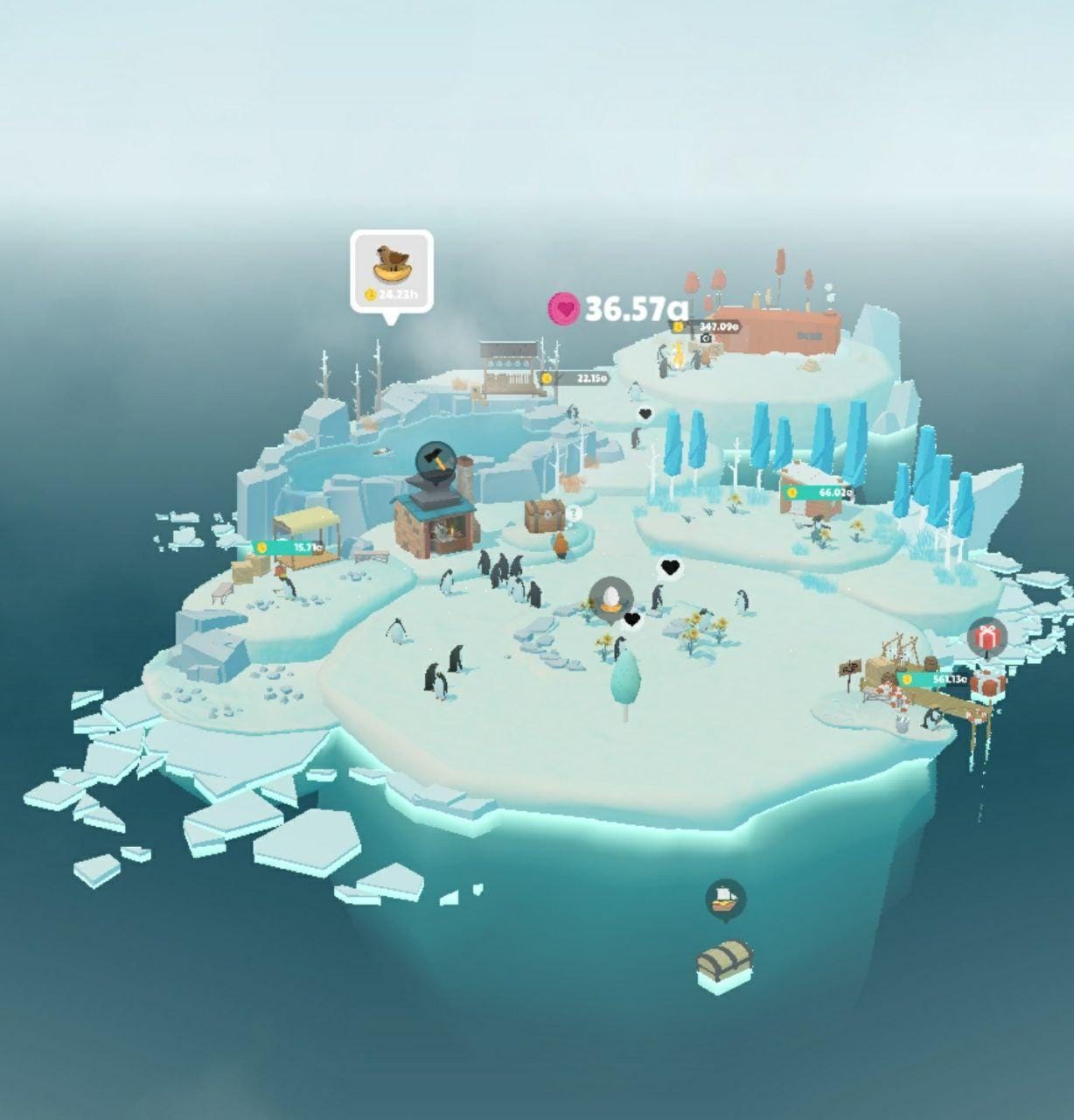 In the game - your penguins work to give you money. You use money to expand the isle, create more avenues for revenue, and hatch more penguins. As you play, the time it takes to get enough money to build takes more and more time. In fact, to make any progress - you need to log into the game multiple times a day (lots of micro-commitments) - or start forking out real money to get ahead. The end goal is to get you to spend REAL dollars.
This got me thinking. What if there were mini-games like this on your favorite online stores? For example, what if you played mini-games on Amazon to gain points toward purchases?
I think we're eventually going to see some kind of gamification come to the Ecommerce world in the USA. It's already happening in Asia. Blake Robbins brought this awesome Whitepaper to my attention on Twitter in regards to Pinduoduo.
He links to this really awesome Whitepaper about the rise of Interactive E-commerce in Asia, particularly China. Here's their definition of Interactive E-commerce.
Interactive e-commerce can be understood as a philosophy toward online shopping that humanizes the online shopping experience, applying insights and design approaches that have been more traditionally associated with gaming, social media or entertainment platforms.
Mini-games! Livestream shopping! Product recommendations based on friends! Pinduoduo has been using a lot of these types of interactive tools to build app loyalty. I'll be honest with you - I want to write a deep dive on this topic. There are so many strategies that western e-commerce can learn from! I'll leave you with one app feature.
A popular feature of this is its DuoDuoOrchard minigame, in which users nurture a virtual "tree,"for which they can earn "water droplets" byparticipating in other functions on theplatform. To sweeten the deal for the users, once the "tree" reaches maturity, a real box of fruit will be shipped to the user's address for them to enjoy.
Isn't that so cool? 😃😃😃Real fruit from a virtual tree. I'd be raving about that on every social media app like a mad man. Talk about a Viral Loop. Eh?
Read the full Whitepaper here at the link!
🐙The Land of Random
The Forbidden "Nike Menthol 10s"
These sneakers are basically illegal. Read this awesome story about an inspired designer, the wrath of Nike, and some really rare shoes. (Yes - it sounds clickbaity but this story is as awesome as it sounds).
Hidden Deep
This old school side scroller horror game looks like a blast! If you like horror and puzzles - this game is for you. (I may get over my distrust of puzzle games to get it. I may not. Hmmmm). It definitely looks like an old school style blast!
Mozilla's Slow Death
Once upon a time - I was in love with Mozilla Firefox. Heck - we probably all were to one extent or another. It was a fantastic browser. However - the browser wars seem to be ending. Mozilla just laid off a lot more people. It's not looking good. Welcome to the "Web by Google." Read this awesome blog by Alan Gibson for more!
Handwritten.js
This awesome Github package gives you the ability to turn computer text into handwritten style writing. Pretty Cool!
Brad's Wife
I can't believe I'm just sharing this. Are you familiar with Internet Historian? Well, you need to learn all about the insane tale of Cracker Barrel and Brad's wife.
Right now.
🎵Tiktoks You Can't Miss!
Want to learn the Shadow technique?
This dude bought a freaking mining town and explores mines. Seriously.
Trolli creating a TikTok account for their gummy worms? Say no more . . .
Going back in time to save Harambe
Burnout is real and it affects everyone
Something happened to Willy Wonka!
Share The Land of Random with Your Friends!