👓Vaporwave in Real Life, Muze Chat, and The Remarkable Notebook
Is paper on its way out?
Hey everyone! Hope you're having a fantastic day. It's the last day of August - can you believe it?
I bought some pumpkin spice flavored cake the other day - and dang it - it tasted good. Once we hit September it's practically Fall, so why not?
I will most likely buy 1 Pumpkin Spice Latte too . . . Please don't judge me. 🤣
Honestly, I'm ready for it to be 60 degrees and cool outside. This moderate Tennessee weather gets to me.
Our sweet little baby is 5 months old, and we're currently trying to get her to say "Mama" and "Dada." She's very talkative!
So - I've got a little surprise for you this week. I have little logo stickers - 40 of them in fact - and I'd love to send you one. What's the catch?
All you have to do is refer 5 friends to sign up for The Land of Random. In return I'll send you a sticker and a handwritten letter. 😎 I know - it's not fancy, but it would mean a lot to me!
So. What do you do? Just 3 easy steps!
Get a Friend to Sign Up 👏 (5 Times) Send them a link to our newsletter http://thelandofrandom.substack.com

Fill out this form with your email and their email (5 times) so I can track 👉 https://forms.gle/Wb1YzGzaSuMi4sFC7

Once you hit 5 referrals, fill out this form and I'll send you your letter! 👉 https://forms.gle/yiAojeq77KonjerZA
Well, without any further ado let's jump into this weeks links! Grab your coffee and let's dive in.
🐧Vaporwave In Real Life
It's finally happened! Vaporwave has transcended the Internet and stepped into the real world. Vapor 95 is a very big vaporwave clothing store - and they now have a phyical store. The First Vaporwave Retail Store in The World.
Since wer're on the topic of Vaporwave, let's take a step back to figure out why Millenials love it so dang much.
If there's one thing that Millenials all have in common, it's their burning lust for nostalgia. With the rapid evolution of technology and information through the 90s, the world fundamentally changed multiple times throughout their childhood, teenage years, and now early adulthood. Combined with multiple recessions, housing crashes, a decrease in available jobs, and a harsh political and social climate, Millenials are hit hard by memories of their naive youth, when now-obsolete technology was new and exciting, and the world seemed to be budding more and more each new season.

Vaporwave is an entire art movement meant to encapsulate and ship little bytes of nostalgia, sending its audience memories of their youth. Vapor95 Creative Director, Japhy, describes the general theme as "a kind of sad-happy nostalgia. For us 90s kids whose earliest memories are filled with this old technology, it kind of rings a bell. We juxtapose it with some Ancient Greek and Roman themes, and that combines together to give this feeling of obsolescence. The stuff with you grew up with now has its place in the past, but we're still celebrating it." (Source)
Yes, we all love that sad-happy nostalgia, whether it's cassette tapes, Walkmans, Slider phones, or other old school tech.
Well, it's actually here in the real world now . . . and I hope they have a Lofi playlist. Here are some shots from the Vapor 95 site.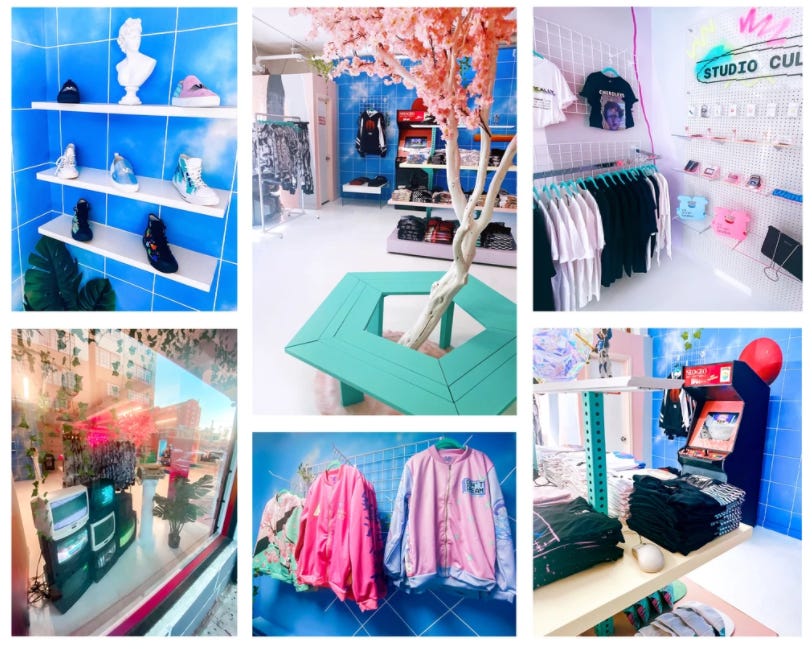 Here's a few shots from Vapor 95 website. It looks so beautiful and aesthetic. The bright colors, old tech, and Grecian architecture . . . all in the real world.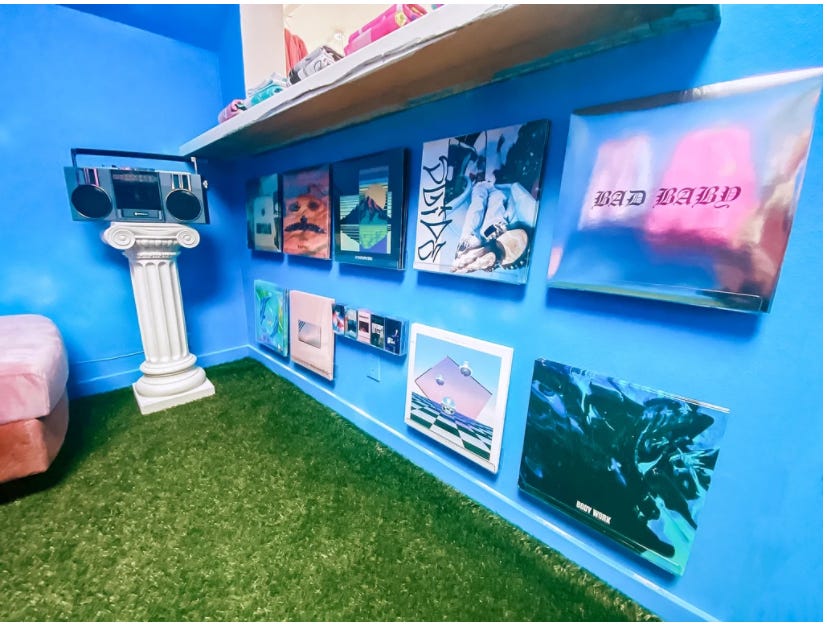 I hope we get to see more of this kind of stuff in the real world! Look at that astro turf! I'd love to see more aesthetic shops out there.
Check out more shots of Vapor 95 at the link! And maybe turn on some Nightwave Plaza for the full experience. 😀
📱Muze Chat - Creativity Unleashed
Have you ever felt like text messaging has become boring.
Yes, Yes - There's Bitmoji, Animoji, Gifs - but I always feel like there could be more. We've gotten a lot better than the old days when different variations of :) was all we could do.
Well, Let me introduce you to a brand new world. A world where the chat is your canvas, and gifs, stickers, text, and pictures are your paint.
You are free of all constraints.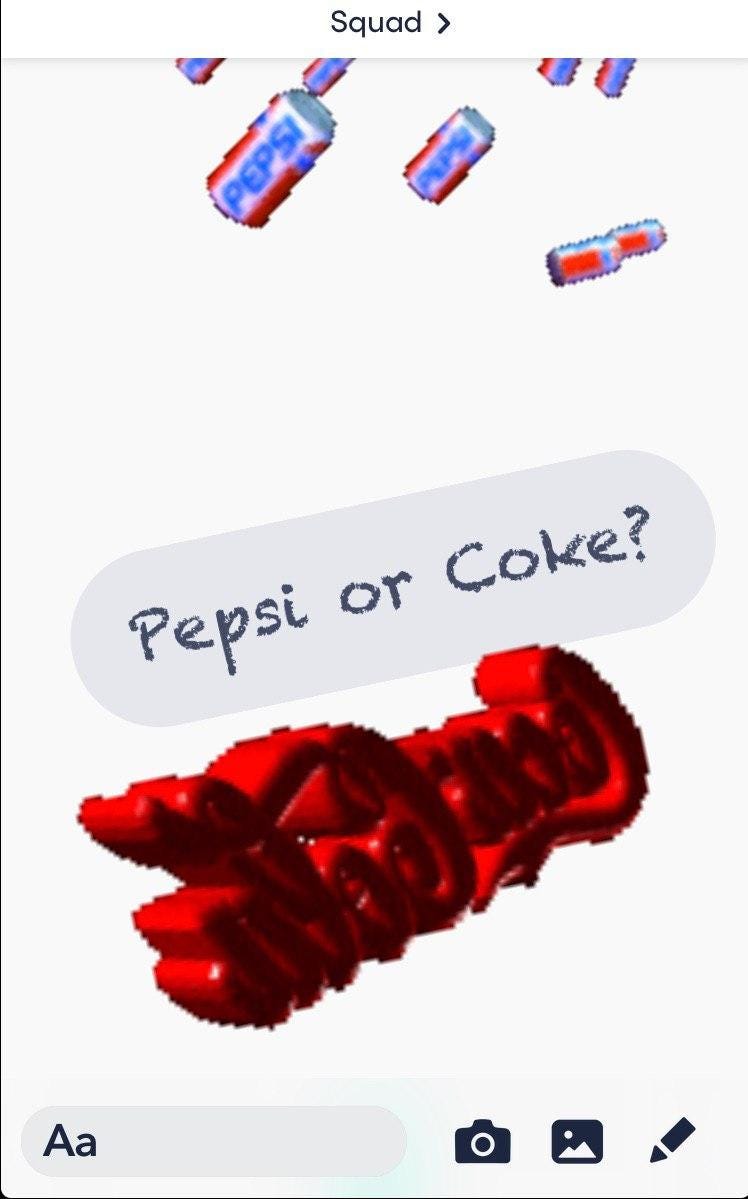 It's incredible what you can do.
Place text wherever you want

dozens of fonts + colors

Awesome 3D Stickers + Gifs

Layer stickers like Photoshop

Draw!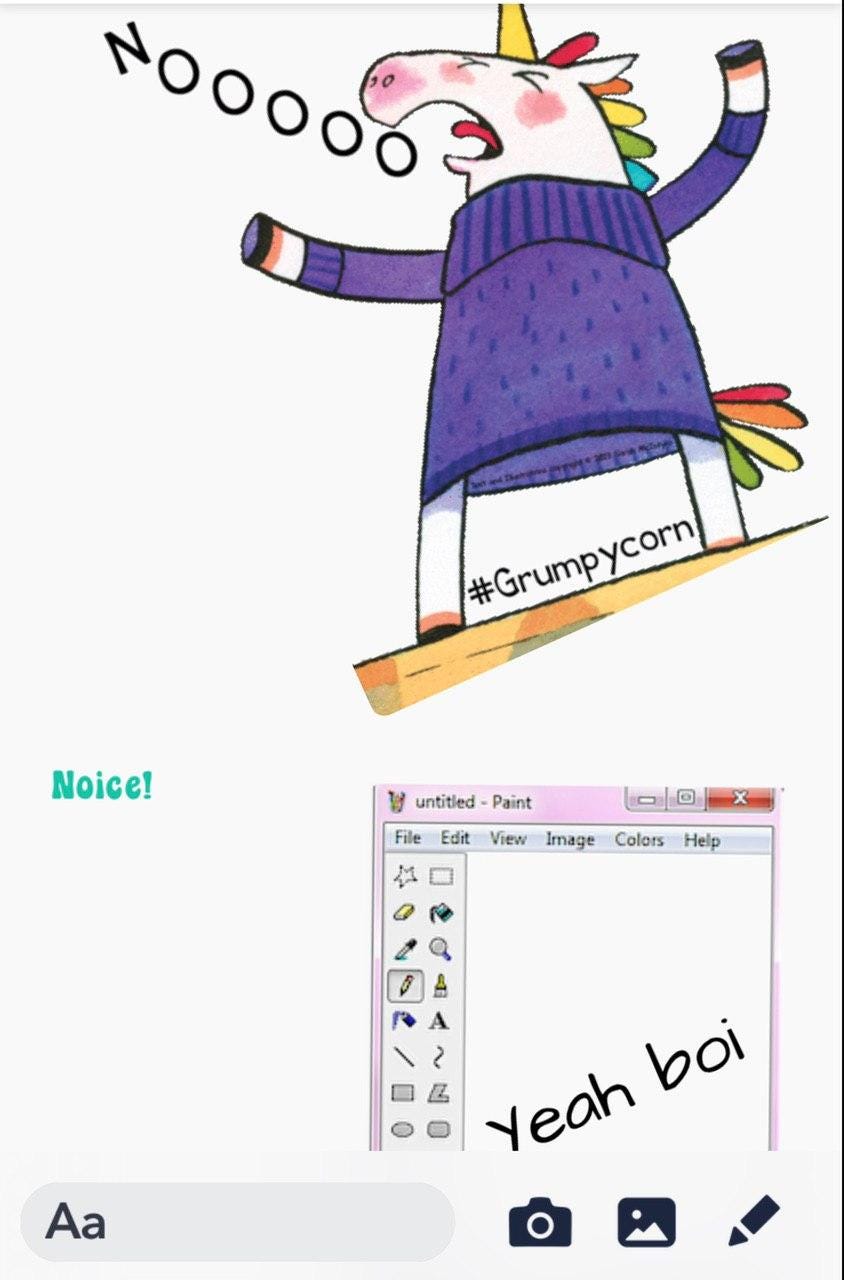 There's no constraints. The screen is a blank canvas waiting for you and your friends. It's one of the coolest apps i've seen in - well - years. It's like Snapchat creativity and Facebook Messenger fluidity had a baby.
Honestly - I recommend using this app for creativity. It would be great for shaking up the day to day instead of slack chats. 😀 Get those ideas flowing! Get that Free Form expression going!
Check out Muze Chat at the link! It's available on the Apple Store - but I hope they have Android soon. (I use it on my Ipad).
💻The Remarkable Notebook
I stumbled across this nifty gadget and just had to share it. There's a new tablet on the block, and it looks pretty cool! You know me - I have a slight obsession with alternative tech haha.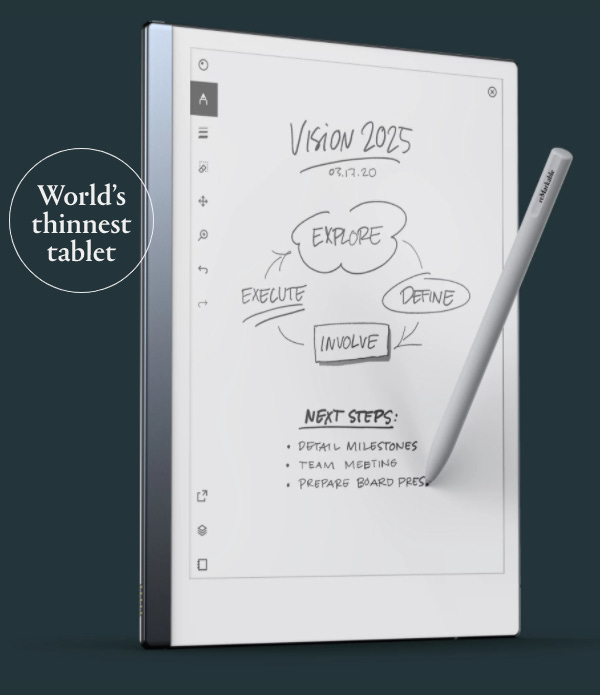 Apparently, it's the only tablet that "feels like paper." That seems pretty neat, but what I like is the fact that you can sync your notes with the Cloud.
The biggest pain point I have with notebooks is the fact that I can't easily find my notes - especially after a few years. For example - I have some pretty profound notes from College Classes - but it will be hard to find them.
Apparently you can even turn your handwritten notes into text! That's a pretty useful feature.
Heck - I''ll be honest with you. I was sold on this thing until I saw the price - over $300. At this point in my life I can't justify that, but I would like to add this to my EDTC (Every Day Tech Carry) as a Journal alternative in the future.
Also - if you're looking for Landing Page Inspiration, this thing is solid. So many details! In my opinion they need more CTA's but overall it's a great landing page.
Check it out at the link! If you buy it - let me know.
🐙The Land of Random
Ah! Those sweet sweet random links
🧠 BrainPint
Looking for awesome entrepreneurial resources and cool links every week? Say no more! BrainPint is an awesome newsletter! Subscribe at the link. 😀
🦜Flappy Bird - but in High Def RTX
Remember Flappy Bird? Well, you can see it in High Def now. Skip towards the end for the good footage.
Mschf Strikes Again!
Mschf is back at it again with the crazy stuff. This time it's the Google Dino Run game - but your Dino has weapons. Play it now at the link!
Sci Fi UI Framework
Want to make a fantastic Futuristic website but don't know where to start? Well, if you can mess around with React frameworks (I can't) you can use these AWESOME elements for your next Cyberpunk web app!
Songwhip
This is a really cool little tool. You can share your music as a link - and all the platforms your music is on will show up. Easiest to use tool I've ever seen. Check out the tool here at this link, and one of my songs at the link! (Yes - shameless self promotion)
Geometric Design Tool
This fun tool will let you make geometric patterns for your website - and it has a free tier! 😀
The Secret iPod
Years ago, the govm'nt approached Apple for a very secret and special iPod. Read all the details in this awesome article! I imagine this is one of many stories . . .and I doubt all of them are this innocuous. 🤔
🎵TikToks You Can't Miss
You have arrived at the deepest part of TikTok
The awesome skills of The blind Woodworker
Speaking of the sea and PVC
We all wish we could make a skate ramp like this and land it
Best Duet with a Viral TikTok I've ever seen
Don't mess with Old People