Discover more from The Land of Random
Rediscover the magic of the Internet! Remember the old days? when the Internet was a fun place of discovery? It's back. Join over 2225 other readers every Monday morning! 200 issues and counting . . .
Over 2,000 subscribers
🚀The Random Inspiration Machine, Create a Ghost Restaurant and Halloween Youtube Videos!
You Need Inspiration for your next project, don't you?
Hey everyone! I hope you're ready for Halloween this week. I'm going to try and watch a bunch of scary movies this week . . .
If you're not much a horror person, Hubie Halloween (the Adam Sandler movie) was really funny! I haven't seen a fun Halloween movie like that in years.
If you're in the mood for some very dark British/Scottish humor, Get Duked is quite funny. It's in the spirit of Snatch, Hot Fuzz, and Shaun of The Dead.
And - don't forget that candy is usually 80 percent off the day after Halloween. I will probably be avoiding the candy aisle that day. I had six cavities and two root canals in 2018 sooooo I don't eat much candy anymore. (I blame my 2015 - 2017 obsession with Sour Patch Kids).
Well, let's hop on in shall we? Drink some coffee and let's go!
🚀The Random Inspiration Machine
It can be very very hard sometimes to stay inspired when you're working - especially if you're in business, web design, coding . . . any profession really. Well, I'd like to introduce you to "The Random Inspiration Vibe Machine." I've been building it over the last month.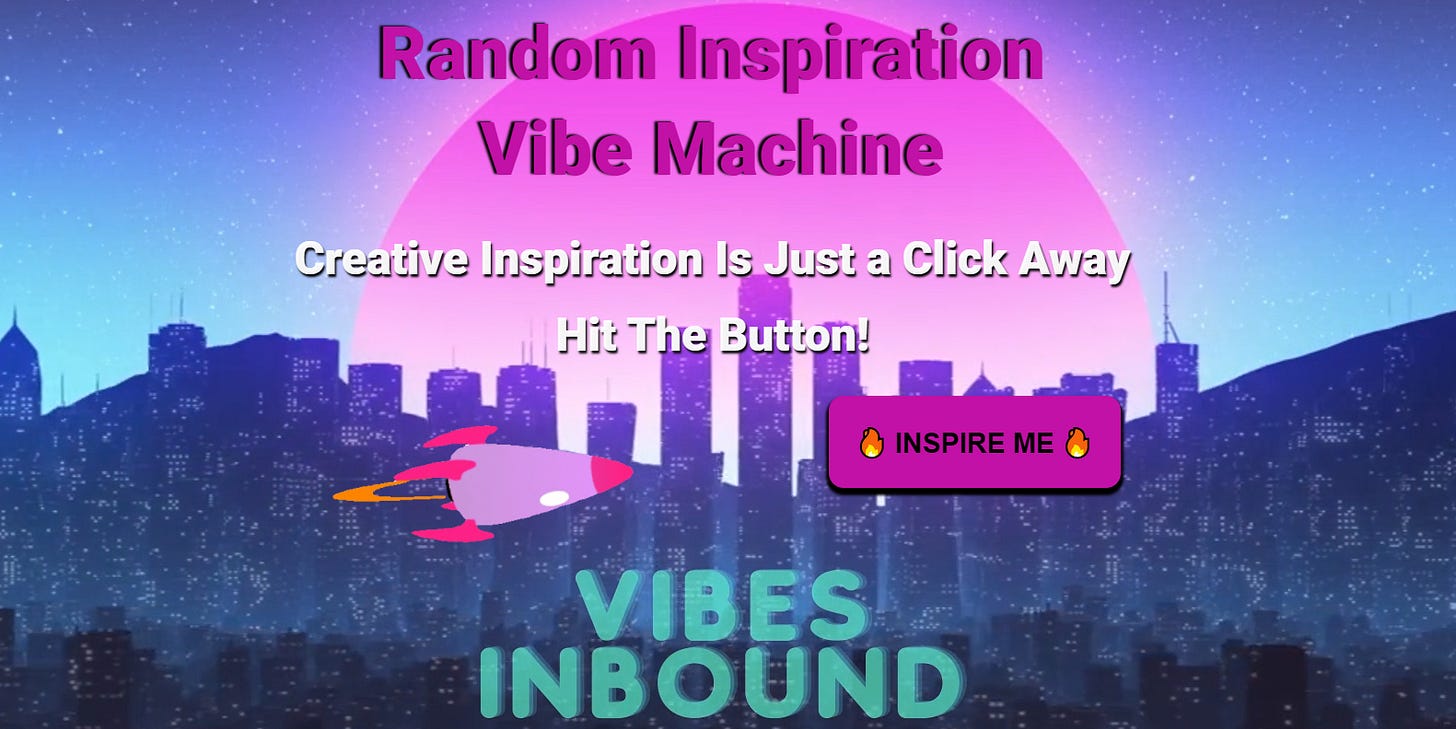 I've curated a list of dozens and dozens of really cool sites that you can discover in just one click. Every click of the pink button will transport you to some cool site for inspiration and joy.
Not only that, but there's music too! I added an auto-playing Soundcloud Vaporwave playlist that (if you're on laptop/desktop) will play instantly. It's quite fun - and it's a great playlist for chill vibes if you're working/studying.
Check it out at the link!
👻Create a Ghost Restaurant
I'm sure you've heard of the "fake restaurants" that have been proliferating on Uber Eats and other delivery services. Have you ever wondered how you can get in on the action?
Maybe you cook a mean steak and have always wanted to sell food - but don't feel like building your own Commercial kitchen. Well, meet Cloud Kitchens.
Cloud Kitchens provides Commercial Grade kitchens that you can rent to cook in for delivery services. Want to create a digital restaurant that delivers via Uber Eats and Grubhub? Now you can!
Here's a snippet from their website of the advantages - and I have to say - the benefits seem pretty awesome.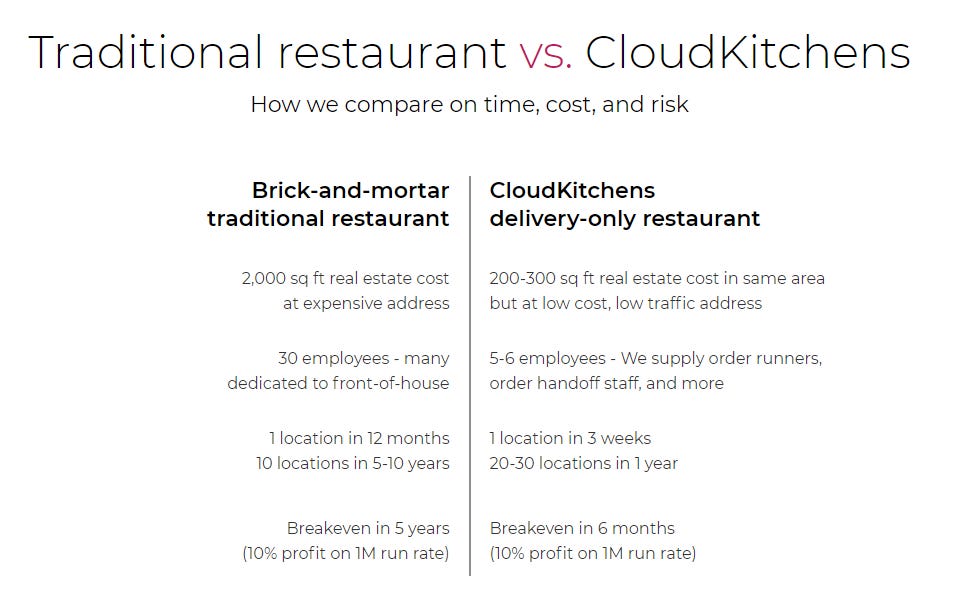 Essentially, all you have to worry about is cooking the food. They take care of most of the other details! It honestly feels like they're trying to establish themselves as the Amazon of digital-only restaurants.
Here's their explanation video.
This kind of industry raises a lot of questions for the future of the restaurant industry. What does our emotional connection to a restaurant look like if no physical location exists?
Is it solely based off the taste of the food itself? - as opposed to the ambiance/ customer service/ other elements that a traditional restaurant has.
Can you create an emotional connection with guests via social media like TikTok or Instagram? Can that serve as a sufficient substitute?
I'm very curious to see where this Industry goes, and how these kinds of ghost restaurants succeed.
Check out their site at the link!
🎃Halloween Youtube Videos
I usually put these sorts of things in The Land of Random but since I love Halloween and Horror so much - they get their own section today bwahahahahahaa . . .
These are some of my favorite horror short films from the many hours I've spent on Youtube. Creepy enough to unsettle you, but not give you nightmares.
The SpongeBob Theme Song In a Dark Minor Key 👀
Fathom - A Creepy Slenderman Short Film
Polaroid - A very creepy but well done short horror film
The 24 Hr Donut Shop - Quite Unsettling
🐙The Land of Random
Yes! Those SWEET Random links. Here they are, just for you.
Give Your Car the gift of Self Driving
Have you ever wished that your car could drive itself? Well, if you're car is newer than 2012, have I got a solution for you! A company called Drive Ghost says that they can install real self-driving capabilities in cars. It looks pretty wild! I don't quite understand how it only costs $3495. 🤔
Write Everything in LLAMA FONT
Have you ever felt as if life needed more Llamas? Well, if that sentiment describes you, check out this glorious Llama Font site.

Scarlet Hollow - Hand Drawn Horror
This cool Horror Visual Novel features a lot of hand-drawn elements. Really neat! I hope to play it soon. It's a "name your price" type of project.
Monitor Websites For Changes
This cool website allows you to create alerts on Websites if anything changes. Looks really useful if you want to monitor changes on Competitor sites, prices on something you want to buy, or lots of other cool features!
Buy a Neural Network Generated Banksy
The folks over at Vole.WTF created a Neural Network that generates paintings in the style of Banksy. It's an experiment in digital art that I haven't seen anything like before. Check out the Gallery, and buy one if you so choose! Not sure how much Investment value it will hold, but it's certainly a conversation starter!
Listen to Among Us Lofi Hip Hop
Yes. I put this song on loop for 45 minutes. No. I don't regret it.
🎵TikToks You Don't Want To Miss
You see Thomas coming towards you, what do you do?
Sign me up for these milkshakes
Well, now I don't want to open the door when someone knocks
That's the first time a Fortnite Video has made me sad
I had no idea you could repair a tire like this
Gorden Ramsey is so savage on TikTok