🪙The Ledger Stax, iMessage for Android, and Existential Licenses
What does lifetime mean?
Heyyyyy everyone!
Hope your December is going well!
We've been busy Christmas shopping for the kids and such, and mailing our Christmas Cards out.
I started a diet last Monday and have lost 6 pounds so far! It's the Nancy Anderson 30 day slim down - basically no sugar, gluten, wheat, corn, or joy.
My goal is 210, and I'm hoping to get pretty close to that!
I'm sure you've all been seeing posts about Lensa AI or Meitu from your friends. It's pretty wild - considering that this is likely the mainstream moment for AI.
Both are incredibly powerful (and confirmed to be mining your data but we all have TikTok and maybe Aliexpress too so what's the point for me anymore - RIP) and I'm honestly shocked at how good the AI anime art looks that is created out of Meitu.
I started with a HORRID 15-second drawing and look where about 10 minutes of refinement got me.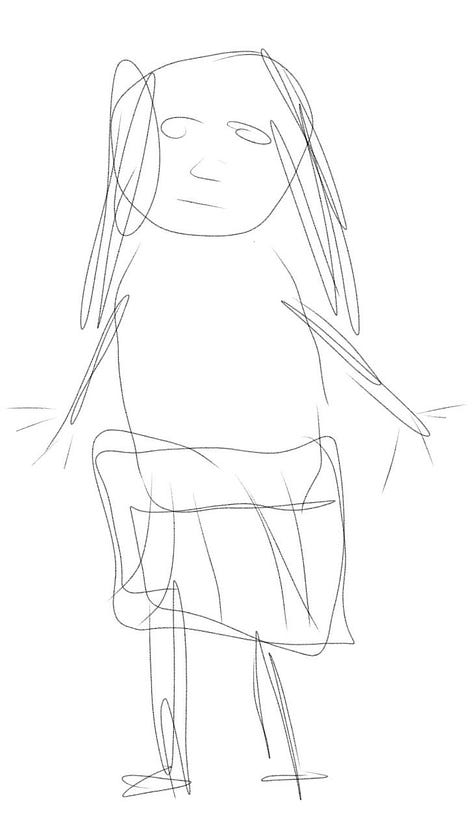 THAT'S NUTS. Some of these are very good, and others just need a few tweaks (THE FINGERS) to be great.
Check out Meitu IF AND ONLY IF you are fine with being data mined and who knows what.
I've been playing with "AI toys" since 2018 or so - and every year my intelligence feels like it has doubled. I honestly think we're in the uncanny valley point of inflection - where tools like GPT Chat and Stable Diffusion can generate very convincing art or conversations.
Let's dive on in!
🪙The Ledger Stax
So, we're all burning in Crypto purgatory.
Our coins are down, NFT's are down, and WAGMI feels emptier than Quibi's servers.
TERRA and FTX collapsing in one year is an unprecedented amount of pain for crypto enthusiasts.
However, projects are still building - Lens Protocol, Polygon, Boson Protocol, Rainbow.me, and others are fighting through the bear market.
The Ledger Stax is one such project - a game-changing hardware wallet.
Game Changing you say? Bro my "game changing NFT's" are worth 10 cents and the project just announced they were hacked.
Yeah - I'm there with you haha.
The Ledger Stax makes it possible to safely display + store your crypto and NFT's - with an awesome e-ink display.
For example . . .
That's a really cool feature - one that would make sharing NFT's a unique experience at a party . . . after the FTX crash has cooled down.
It also makes interacting with your crypto a fun experience again - connecting the ole ledger to your computer or phone takes time, and causes friction.
It connects with Ledger Live - where You can use your hardware wallet to buy, sell, swap, and connect to Web3 apps like Opensea.
I could see the Stax being a great option for those who may see the value in crypto - but want to stick their assets in the safe and "forget about them" so to speak.
With the Stax - I could create a Ledger Wallet, send all my NFTs from Rainbow to Ledger, then stick it in the safe until I wanted to "show off" my NFT's.
Sadly - it's pretty pricy - coming out at $280 for the Stax.
Check it out at the link!
💬iMessage for Android
One Message Platform to rule them all
One Message Platform to bind them
One Message platform to find them all
And in the Darkness bind them . . .
We use so many messaging platforms to communicate with others - and it would be really nice if we could consolidate them into one place.
including iMessage.
The best game in town for that right now is Beeper - which costs 10 bucks a month (or you could host your own instance).
A new platform has come to town called Sunbird, and they're claiming to offer iMessage for free on Android.
Free eh? Trying to undermine Beeper perhaps?
Droid Life talked to Sunbird, and found out a few more tidbits of info.
Sound too good to be true and you need to know what the catch is? At this point, Sunbird isn't revealing a catch. They are saying all of the right things to get people to sign-up for a beta list to test the app. For example, they claim that Sunbird "does not store user data," so that would be referring to login credentials and the messages you send . . . Sunbird told us that the service would be free and that if they want to monetize later they could, but that for now they just want people using it. That's a bit of a red flag for me. There is nothing snakier than creating a service you know people might love, telling them it's free, and then flipping on the credit card machine once they are well committed. (source)
I'm pretty curious to see what happens here, but I'd likely sign up for Beeper first unless I see a few security assurances from Sunbird.
They state in their FAQ the following
"The Sunbird app does not store user data promoting a safe, secure, and private messaging environment. With end-to-end encrypted, confidential messaging, Sunbird is fully secure and completely private."
I'd like to know a little more about the team, and some of their previous work - but I might try it out anyway - after all, I downloaded Meitu. 🤣😅
Go check out the site at the link!
📝Existential Licences
What does a lifetime license mean?
In general terms - when we see Lifetime - like until i die.
As creators know when dealing with Adobe - lifetime doesn't always mean lifetime anymore.
A quick Google Search reveals all sorts of issues with Adobe's lifetime licenses.
A company called mIRC Co. recently revoked its lifetime license.
YIKES
mIRC Co. is a Internet Relay Chat program for messaging. Much like Myspace, IRC has very small user groups now . . .
BUT - a dedicated core group lives on - as evidenced by reddit threads like this one.
The IRC subreddit actually has a decent amount of posts per month, with a few comments per post.
So, it's not surprising that several thousand or so users might be still using an ancient IRC program like mIRC for chatting.
mIRC decided to revoke everyone's license who purchased over 10 years ago.
As Ryan from pocnetwork writes
So you have a lifetime license with no terms stating that the developer reserves the right to change them at any time, that is suddenly revoked with a simple "nevermind, I changed my mind" statement from the developer. They do, thankfully, leave an exclusion that you can reach out if you just can't afford it. However, this is risky business nonetheless.
A very risky business!
This sort of change goes completely against the idea of a lifetime license. It's just not cool.
I'll be curious to see if we see more lifetime licences like this revoked in the next decade or so - mIRC is a great example as it is a peek back into the 90's.
It feels like every new indie saas sells tons of lifetime licences for the first year or so - will they continue to honor them in a decade or so?
In any case - this article piqued my interest to go try and explore IRC again. I may write about that soon haha.
Go check out the article at the link for more info!
🐙The Land of Random
Let's - Get - Random!!!!!!!
You Called Bioshock?
From the original creator of Bioshock - we get MOAR bioshock style vibes.
Ok - Jedi: Survivor looks really good too ngl.
And don't get me started on that Death Stranding 2 trailer.
This Christmas Tree Ornament Plays Doom
Idk if my eyesight could handle that
IS IT WEDNESDAY MY DUDES??
Nah I think it's Monday, but Imma check this site on Wednesday
This SCP Does Not Exist
RIP to the SCP website because you know a ton of these AI-generated SCP's are gonna get uploaded.
Air Force OSINT
Really interesting thread demonstrating how powerful OSINT can be.
"MID" Century Modern
A thought-provoking exploration of ugliness in our modern world
Facebook is building what?
an AI capable of negotiation - that's wild.
Solar Powered Headphones
These sound pretty cool.
🎵TikToks You Can't Miss
Ok this is an Instagram reel, but I understand this Dad on a spiritual level.
The amount of detail in Dishonored still boggles my mind.
Could you imagine seeing something like this IRL?
I mean, it keeps me from eating snacks. Maybe I should get back to 190 pounds just so I can eat 10 pounds of snacks. JK I promise
I can't wait to play this Choo Choo Charles game.
🎙️Vybes
Explore generative music, or make your own! There's even a version of the Forest Gump theme.
That's all for this issue! Come hang out in the chat to talk this weeks issue.