Discover more from The Land of Random
Rediscover the magic of the Internet! Remember the old days? when the Internet was a fun place of discovery? It's back. Join over 2225 other readers every Monday morning! 200 issues and counting . . .
Over 2,000 subscribers
🌋The Floor is Lava, Zuck's lost notebook, and Minimalist Uno
Mark Zuckerburg's lost journal - Gone forever?
Hey everybody! How's everything going this week?
Getting ready to file your taxes?
Honestly, I don't know what I'd do without TurboTax. It makes life so much easier, especially for "us clueless millennials."
While we're on the subject of "gov'mnt," the new W-4 is just plain nuts! Rather than having to put numbers, now you have to put dollar amounts. 😭
Anyway, I'm sitting here outside Starbucks and a car with a window sticker of the Queen waving just passed by. That was a double take! Who in the world would put that in their window. Certainly no Royalist! A perfect segue for this "Land of Random."
Well, let's get started shall we?
🌋The Floor is Lava - on Snapchat anyway
Snapchat is back at it again with their immersive AR lenses. Basically, you choose the floor is Lava filter, and the floor "instantly turns into flaming lava." It's a pretty clever little filter, and pretty advanced as far as its ability to recognize stuff. Machine Learning determines where the floor is, and places flaming chunks of asphalt all around you. It's definitely one of those filters that you play with a few times.
It's amazing to me how the "Age of AR" is drawing nearer and nearer. Now it's mostly little games like Pokémon Go or filters on Snapchat, but the time is coming when AR is going to be a essential part of our experience - just as the Smartphone is now. Remember when Instant Messenger was just AIM and it was just fun and games? Now companies like Slack or Wechat are valued in the billions and all they do is enhance the messaging experience.
Someone is going to create a "AR browser" that's going to become essential to everyone - just as Facebook, Google Maps, Instagram, Spotify, and other apps have become part of everyone's experience.
Maybe someone's working on that project right now. Maybe it's a little startup in a garage. Maybe it's secretly being funded with millions of dollars.
Who knows?
Check out the article here. There's a few more interesting links about AR!
🤷Mark Zuckerburg's Lost Notebooks
Have you ever wondered what went through Mark Zuckerburg's head during the early days of Facebook? I have no doubt that his life and impact will be the subject of many books over the next several centuries. It's a undoubtable fact that Facebook was and is a world changing product. Never before have people been able to connect in such an easy and personal way. It's a foundational product to the very existence of social media, just as Henry Ford will still be discussed for centuries to come.
Anyway, I read this excellent piece by Steven Levy entitled "The Notebook" in Wired. It's a long read (10 - 20 minutes depending on your reading speed) and it chronicles the story of Mark Zuckerburg's vision for Facebook throughout the last 14 years - through the lenses of some pages from his journal. You see, Steven found some pages that had been shared, and kept them. Apparently, they are a fascinating look into Mark's head - a look that we may never know more of. You see, Zuck says he destroyed those notebooks. Tragic! The insights we could glean!
I'm not going to attempt to summarize the article. You just have to read this one. After all, you use Facebook every day, don't you? Don't you want a peek into its creators life?
For a recent interview, Steven brought up the pages to Zuckerburg, and he asked if he could see them.
As he swiped through the pages, a rhapsodic smile spread across his face. He had been united with his younger self: the boy founder, unacquainted with regulators, haters, and bodyguards, blissfully relating his visions to a team that would alchemize them into software, and then change the world in the very best way. It was a treasure that seemed irretrievably lost. He seemed almost reluctant to break the trance and hand me back the phone, but he did, and turned back to his house. Source
Those were the simpler days - when Facebook was uncomplicated and fun. Now it's a gargantuan monster striving to stay culturally relevant. How long will it last? Will Mark Zuckerburg live to see his creation sink to the depths of MySpace?
No one knows.
It's an excellent article. Read it at the link!
🎲Minimalist Uno
Sometimes big companies actually see all those cool designer ideas on the internet, and listen to them! It's rare - but it does happen.
Occasionally, sharing a piece of work you're proud of on the internet can lead to good things (not just other people stealing your creation) as Brazilian graphic designer Warleson Oliveira discovered when Mattel reached out to turn his gorgeous, minimalist UNO deck design into an actual product. Oliveira originally shared his UNO redesign, which he calls Versão Minimalista (Version Minimalista) on Adobe's Behance platform in early January, where it quickly spread across the internet with many fans of the design expressing interest in buying a copy for themselves. Source
It finally happened - and it looks beautiful. Here's an image of them that Gizmodo got from Mattel.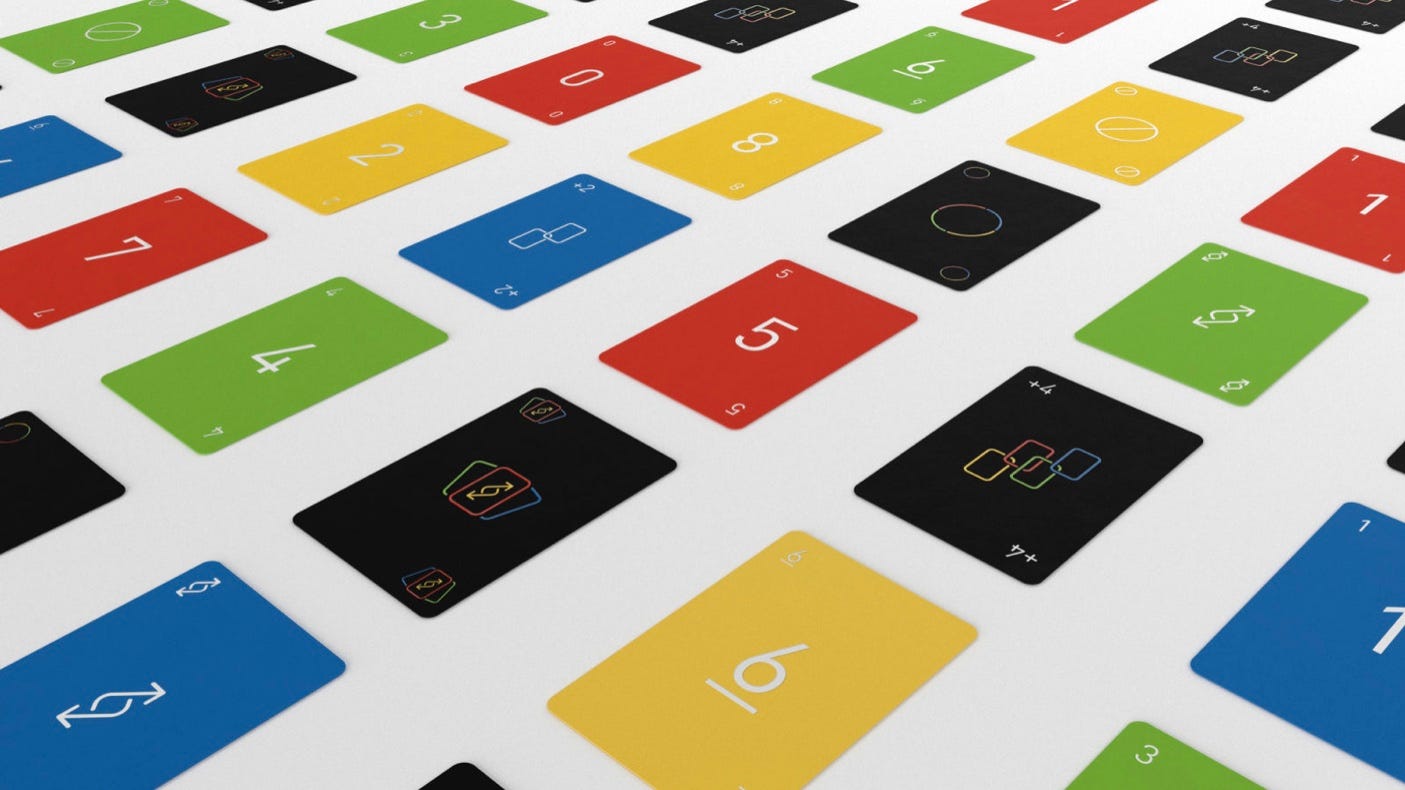 So minimalist and clean! I really want to buy a deck of these or two decks for Mega Uno. It's a great update on the classic Uno design, and I really hope they sling some money to the original designer.
We can hope!
Here's a link to the original post on Adobe Behance.
👾The Land of Random
More crazy links? You asked for them - and I got them. Here we go . . .
😭The Death of HQ Trivia
HQ Trivia is dead, and before it died, there was one last game show. This is some of the wildest live broadcast footage I've ever seen in my life. There's quite a bit of language and both hosts are drunk. They were told earlier in the day that HQ Trivia was ending - but they decided to host one last show for the fans - with a $5 prize. The commentary is hilarious.
Watch the video! I watched all 40 minutes. Will you?
🤣How to advertise for a local Walmart
Charlene is a older Walmart worker who poses with products for her stores Facebook page - in some of the silliest ways possible! She sleeps in the baby crib, climbs in the toys, and more! Pretty hilarious! it just goes to show you that even the most mundane things can be made interesting. See them at the link!
🎮 Halo is finally getting Nerf Blasters
For all you Gen Z readers, this may not seem so important - but it's pretty significant for us Millennials. We loved playing Halo 1-3 back in the day when we were kids, and wished we had Nerf blasters modeled after the game's weapons.
I know - it's all about the little things. Besides, who doesn't want a Nerf Needler?
🤜Make Memes with Gary Vee
Gary Vee, famed entrepreneur and hustler, has put out a guide on how to make Memes for your business! Check it out at the link.