📦The Best Found Footage Horror, The Tempting Ikea Seasonal Box and Virtual K-Pop
Will you follow the virtual?
It's finally October! I hope you're doing well this week.
My sweet little baby is crawling around like crazy! It's hard to believe that she's nearly 7 months old now. It's wild how time flies.
One exciting announcement - We now have 500 subscribers to The Land of Random! This is a huge milestone for me, and I'm so thankful to have you all as subscribers. I love hearing from you. Always feel free to send me an email with any thoughts or ideas you have! Just respond to the newsletter. 😀
It's crazy to believe, but we're actually having cool weather. I thought it would 80 degrees forever.
But - here we are. Cool weather, warm apple cider, warm fires, and caramel apples. Don't forget the spooky scary skeletons.
Honestly, would it truly be Halloween without this ancient Youtube video?
Well, let's dive on in shall we? Grab a Maple or Pumpkin Coffee and let's go!
🎃The Best Found Footage Horror
Are you looking for some new horror films to watch this Halloween? How do you feel about "found footage?" Hear me out. I think found footage is some of the creepiest and unsettling horror. The attempt to make it feel like "real life" makes it much more bone-chilling in my opinion. Here's some of my favorite ones from the genre. Well worth watching!
The Houses That October Built - Taking a road trip to Haunted Houses? in an attempt to find a secret exclusive haunted house? Sounds fun! What could go wrong? Surely this creepy girl following us is fine.

Hell House LLC - Let's start a haunted experience in an old hotel - where the owner died mysteriously. Did - did that stuffed clown move its head.

V/H/S - Oh look! We've found some mysterious creepy VHS tapes. Let's watch them!

Trollhunter - Giant Trolls hidden away in modern Scandanavia? Let's go find them! They must be friendly and nice!

Unfriended - Let's hang out on Skype! Wait . . . our . . . our dead friend joined the chat?

Diary of the Dead - It appears that we've found real zombies while filming our student film. Keep the camera rolling and post to Myspace!

Behind the Mask: The Rise of Leslie Vernon - Let's follow around a Jason Vorhees inspired serial killer! He seems nice enough. Surely he won't do anything to us.

Alien Outpost - Surely the aliens aren't coming back? The war is over! Never mind the mysterious stuff that the alien survivors are doing.
📦The Ikea Seasonal Box
The subscription box revolution has come and gone. Things started looking dark when Lootcrate filed for Chapter 11 bankruptcy.
Don't get me wrong - there's still a lot of them, and there's 1000's of happy buyers out there. They're fun - and what's better than getting a random box of goodies every month?
Heck - I wanted to start one back in the day. I wanted to make a thrift subscription box back in 2015. I wanted to find custom outfits for people - one a month for about $35 bucks a month.
Well, it appears that Ikea is stepping into the game. Ikea - the company with the budget-conscious Midas touch. Everyone loves Ikea stuff.
They've called it "The Home Refresh Subscription." Here's their concept image. (Source)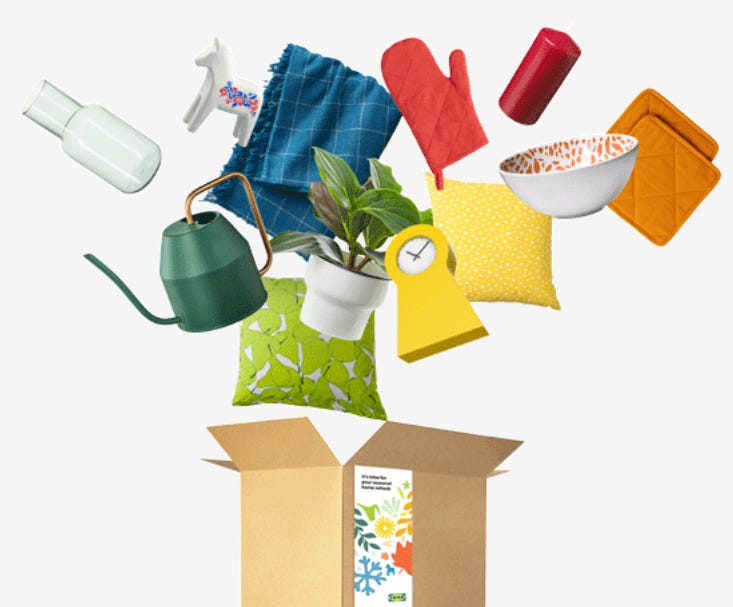 The thing that's so tempting about this is that it's from a brand we all know and love. Yes - Ikea stuff is cheap, but it has a habit of being pretty reliable (at least in my experience). Other subscription boxes have to prove their worth to us through long-form ads and exceptional copy.
A Ikea subscription box full of items relevant to each season? That sounds pretty dang cool to me. Where do I sign up?
You can sign up monthly at $45, or quarterly at $85.
Sadly, the Ikea Seasonal Box is only available in Vancouver -but I hope it will be rolled out more widely soon!
🎤Virtual K-Pop
Years ago - the virtual Influencer scene was a novelty. It was Hatsune Miku - and that was honestly really about it.
Now - before you get all dismissive of Virtual Musicians and Influencers - let me warn you. They're going mainstream. Yes - Hatsune Miku is definitely a niche character, but she was ahead of her time.
A LIVE concert where the performer/celebrity is a virtual character who sings computer-generated Vocaloid music?
Don't believe me? Here's a song from a 2016 concert. In my humble opinion, this is the quintessential Vocaloid song.
Yeah - Hatsune Miku was a harbinger of the future. A world where virtual influencers make real money.
Remember that game League of Legends? Mainstream gaming culture may have moved on but it's still pretty popular. There are giant tournaments and over 80 million monthly players!
There's actually a virtual K-Pop group in the game. In 2018 they performed in the digital at the World League of Legends Tournament. Skip a few minutes in to see the digital stars.
Well, they're releasing their own album in November. (Source)
Isn't that wild? We're entering a reality where there are virtual bands playing real music. Of course - there are real musicians pulling the strings, and digital artists animating everything. However - when it comes down to it - are you a fan of the ones in front of the curtain? or behind it?
For example - Lil Miquela is a famous virtual influencer, and she has over 2 million followers. She gets brand deals.
We're entering a brave new world - one where virtual influencers have just as much credibility as virtual ones. It almost makes you think - do you want a personal human brand? or do you want to be a Puppeteer behind a virtual influencer?
After all, why share your identity when you can make money as the puppeteer behind the curtain?
It's a valuable question to consider.
If you'd like to keep exploring Virtual Influencers, I recommend checking out Kizuna AI.
🐙The Land of Random
More Random Links to the Wild and Curious? Well . . .
Buy a Scorpion Gaming Chair
Yes. You can actually buy a gaming chair that's shaped like a scorpion.
Make Your URL's Shady + Harmless
Have you ever wanted to make the URL to your site look extra sketchy? Well, look no further than this wonderful tool, ShadyURL. 😀
Share Passwords With Your Friends
Ever wanted to share Streaming accounts or other online accounts with friends but didn't want to give them the actual passwords? Well, now you can with JAM! It looks pretty neat. You can even charge your friends for access!
See the Tracking Tech of Other Sites
Want to see exactly what tech other sites are using to track you? This neat Privacy Inspector tool allows you to see the tracking tech being used on any website. Check it out at the link!
Listen To More Vaporwave
This playlist is awesome if you like chill vibezzz and soft trap beats.
Wireflow Tool
Create Wireflows and UI flows in your browser, for free!!!! This website is awesome and incredibly easy to use. Need to build a funnel? Use this tool!
🎵TikToks You Can't Miss
I'm not sure how I feel about fishing for your supper
This evil creature is terrifying
You'll never look at a Himalayan Salt Lamp the same way again
I want a massive cheap Barn House like this
If this happened to me in a game, I wouldn't be angry
Most Satisfying Trickshot ever
Well, that's all for this issue! If you're willing, please Share The Land of Random on Twitter, Hacker News, or with your friends.