🔪Real Vampire Slaying Kit, The Instagram Museum, and the Google Search Toolkit!
Don't miss out on Trending Topics
Heyy Everyone! Hello from San Antonio!
I'm down in San Antonio with my wife and baby visiting some family. Originally, I wasn't going to go because my job wouldn't let me work remotely . . .
but I got fired the same day we were supposed to leave! I cajoled Southwest and they let me uncancel my flight for the same price. Woohoo!
I've been jobhunting the past week. I currently have one lead (sales ambassador for a upcoming beverage brand) and I really hope it pans out! The interview is this morning actually. If you read this before 10 AM, wish me luck.
I'm now pretty active on Twitter if you want to give me a follow. I'd love to chat and learn more about you! Of course, I share random content on there. 😁
I also made this WILD Vaporwave inspired landing page for fun. Check it out!
So, without any further ado, let's dive into this week's topics. We've got some fun stuff lined up! Grab that cup of Joe and let's caffeinate!
🧛‍♂️Real Vampire Slaying Kit
Have you ever wanted to purchase a REAL Vampire Slaying kit? you know - just in case it hits the fan and vampires come knocking at the door.
Well, get ready to place your bids, because I found you a REAL one! Hanson's Auctioneers is selling this awesome kit.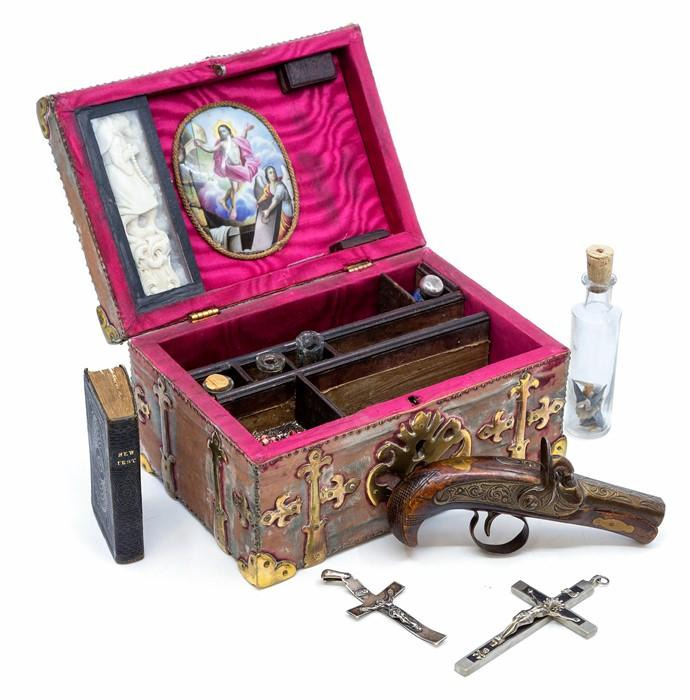 Oh - here's the product description.
Vampire slaying kit. Velvet-covered box with brass mounts, carrying handle, lock and key; lined with crimson silk; sectional interior with eight compartments. Contents include an oval enamel painting depicting the resurrection of Christ; carved ivory wolf in robes carrying rosary beads; percussion cap pocket pistol; cobalt blue glass phial with white metal lid (contents unknown); three clear and aqua glass bottles; rosary beads; three crucifixes; two sets of pliers; a pocket knife (Source)
If they're Dracula style vampires, this is certainly the right kit for the job. I don't know about you, but this would an AWESOME coffee table decoration.
Also - it would be a lot of fun to build this kind of stuff and sell it on Etsy. Vampire Killing Kits, Zombie Kits, that kind of thing. You could definitely make some serious money putting this kind of stuff together. I'm kind of tempted to give it a try . . .
Check it out at the link!
📷The Instagram Museum
We have finally arrived at the logical conclusion of the enlightenment /modernism /post-modernism.
Every experience is all about ME, and capturing that experience for posterity.
Even visiting the Museum.
I'm totally (for good or for ill depending on your philosophical persuasion) a part of the trend. I visit someplace new and start taking pictures like a madman. I tend to focus on pictures with my family and friends on them.
Do you remember hearing about the Museum of Ice Cream? It's an interactive museum that's all about creating experiences. I gotta say - I REALLY want to visit this place sometime.
They have tons of awesome stuff that looks so much fun. Slides. Hallways with Aesthetic Lighting. You know, the kind of stuff that makes Millenials and GenZ weep with IG/TikTok joy. A SPRINKLE BALL PIT.
2 for 1 MOOD. Purchase one ticket to MOIC on Valentines day get the second one free. Grab your Valentine and throw your sprinkles in the air like you just don't care! 💓🔗in bio to scoop your tickets!
This fascinating trend has been making waves in the Art world for several years, and it seems that it may just be getting started.
 Instead of simply experiencing a moment in a museum, if we are considering taking a photograph of art, we immediately begin to think in terms of a photography and other aspects of social media (likes, selfies, etc.). According to a recent study by NYU Stern Professor Alixandra Barasch, who tracked the eyes of visitors to museums and famous sites across five experiments, those who took photos actually enjoyed the experience less than those who did not. Ultimately, Instagram and the rise of the 'Instagram museum' have altered the way we approach museums and the way that museums are organized. In a TED Talk, Jia Jia Fei, digital director at the Jewish Museum in New York, summed up the phenomena perfectly: 'In the pre-digital photography era, the message was: This is what I'm seeing. I have seen. And today, the message is: I was there. I came, I saw, and I selfied." (Source)  
It's a fascinating idea to contemplate. As IG and other social media shape our minds to approach art in a new way, it is changing how we approach the old and venerable museum - a medium that really hasn't changed in the past century or so. A market is being created for interactive experiences, and I think it's awesome.
I encourage you to check out The Museum of Ice Cream on IG and to read this article about the rise of Instagram museums.
🔎Google Search Toolkit
So - I found a new chrome plugin you should add to your "Web Toolkit"
Whether you're a web designer, writer, marketing guru, or just curious about Google searches, these two plugins will augment information about Google Searches WITHOUT making you open multiple tabs.
Now, I can get an idea of a search term's popularity without doing more research. For example, when I looked up No Code - I can see that the search term is gaining popularity but also has a low search volume. I could write an article, SEO it, and try and rank for the first page. Heh Heh . . .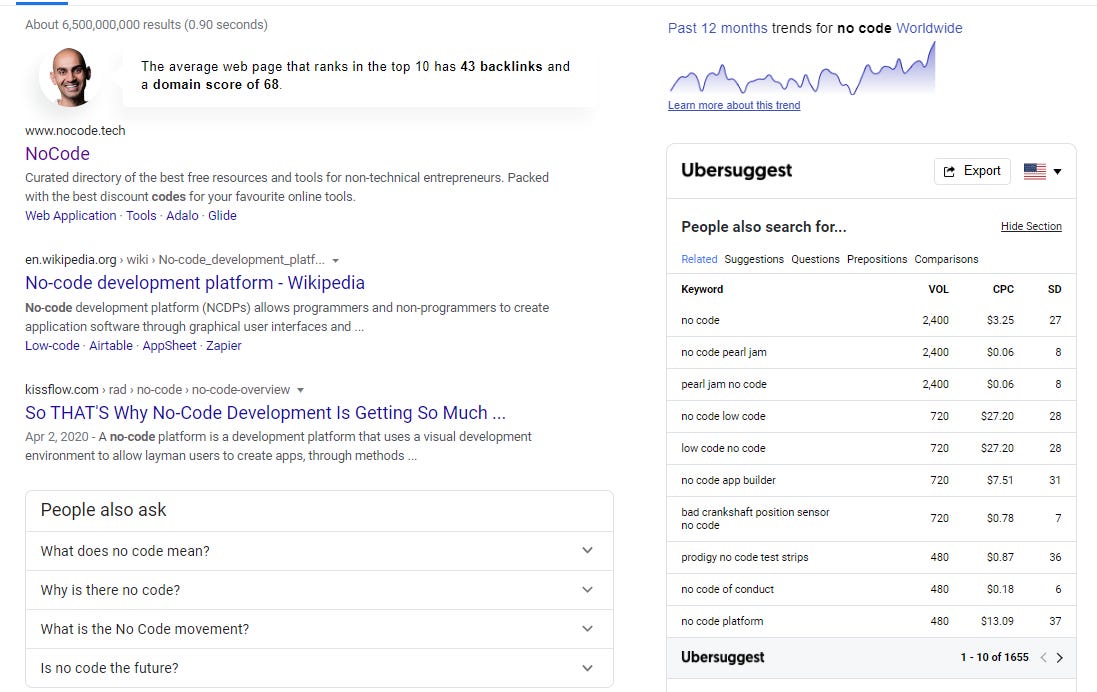 Even better? both of them are 100% free.
The First Tool is Uber Suggest. It's Neil Patel's free Keyword Analytics Tool. It will show you search volume and average Cost Per Click of a search term. You can download this chrome extension at this link
The second is a new extension called Trends Everywhere that shows a convenient little Google Trends Graph. I can see if the term is gaining in popularity or declining. Check out the website here.
Check them out and add them to Chrome when you get a chance!
🐙The Land of Random
I have wayyy more links than I can share this week. Here's a bunch of the Good ones.
Check Out The Slice!
This awesome newsletter is full of really cool tools and and other resources for Indie Hackers, Creators, and marketers! Nic finds a lot of cool stuff and shares it every week. It's awesome! 😀 Subscribe at the link.
Pokemon Dress Shirts
I want one. If I ever have a professional job, this is what I'm wearing to work. I want a Pigeotto short sleeve dress shirt.
This Recipe Does Not Exist
I literally don't understand why but GPT-3 went Twitter mainstream over the weekend. Remember when I talked about talktotransformer.com last year? Well, a few other sites and uses of the GPT-3 AI model are becoming really popular! Well, this website is full of AI-generated recipes. I guess the Singularity knows how to cook, eh?
Sketch2Code
Need some HTML but don't know how to or feel like coding? Write out the layout by hand and this AI model will build it in HTML for you! Really Cool!
The Chivalrous Knight
Anime Vibes with a Western Twist. Pretty cool! by WLOP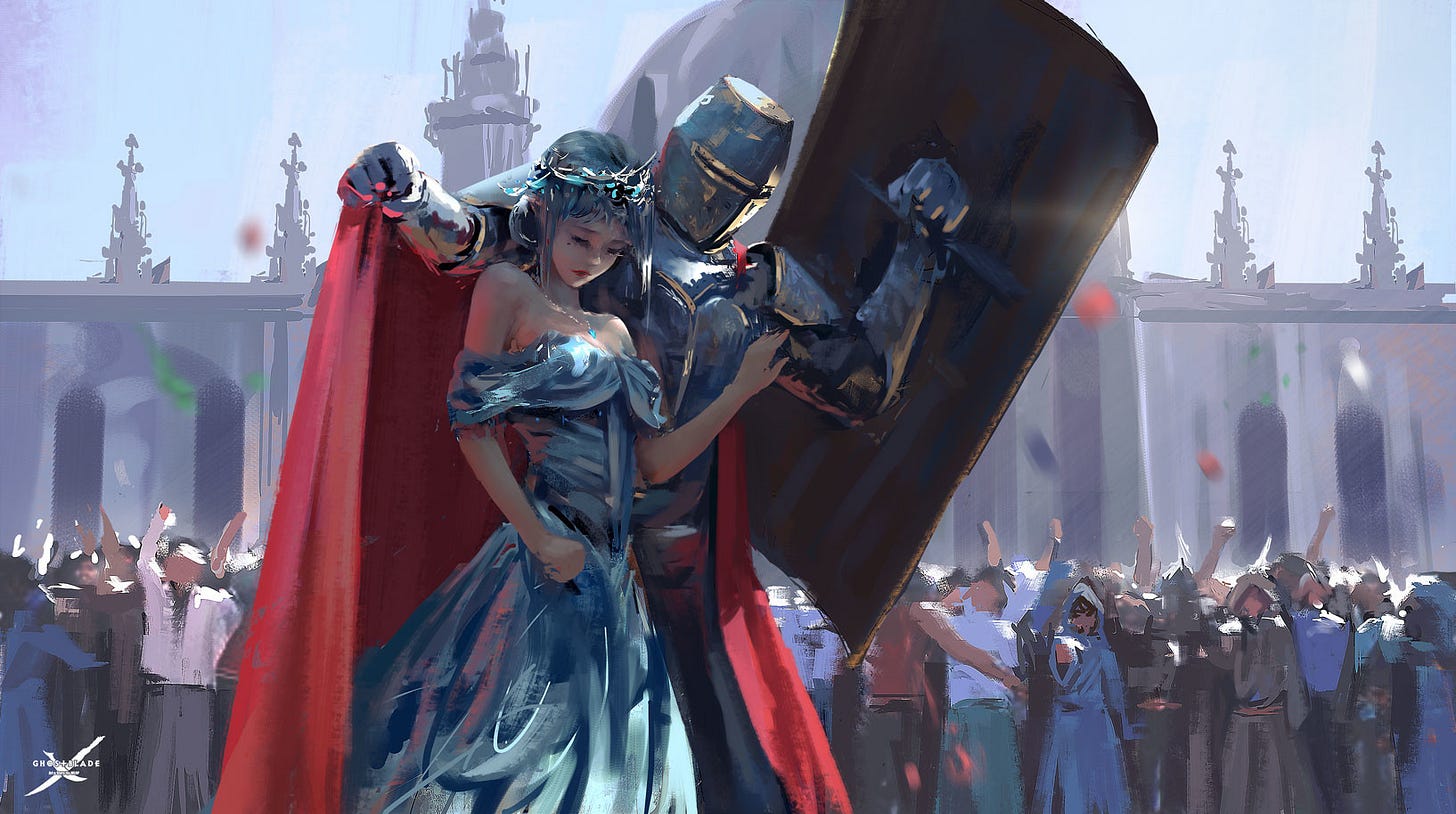 🎵 TikToks You Can't Miss
Taking Boba Tea to The Next Level
I was not expecting that to happen
Macaroni TikTok scares me.
Apparently the Pepsi Logo Designers got carried away?
These little cute creatures are awesome
Spread the Joy of Random to your friends!