🐊Kentucky Fried Crocs, The Death of Brandless, and the Rise of Vending Machines!
You want a pair of Crocs with your KFC Fried Chicken?
"Blue Jeans and Bloody Tears"
The other day, one of our subscribers mentioned that this AI song got stuck in his head like an earworm. I'm glad somebody told me! That song got stuck in my head too!
You are always free to respond directly to this email and I will happily respond, or email me directly at landofrandommedia@gmail.com
I'm always excited to hear your thoughts and opinions!
Anyway, it's good to see you again this week.
I hope all is well with you this chilly February! As I write this, it's 19 degrees in Tennessee. So cold!
What's better than warming up with some crazy news from the internet? Grab another coffee, and a chicken drumstick, because we are off to hear about some crazy stuff!
🍗KFC Crocs
I didn't believe it until I saw it for myself. KFC and Crocs have teamed up for a collaboration.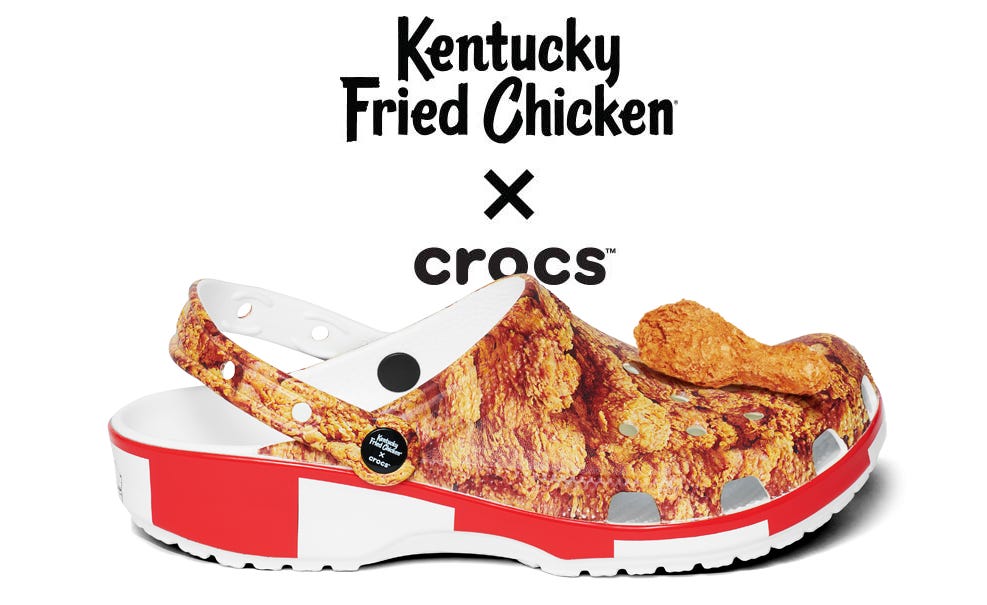 Yeah. These are real, and Crocs is planning to sell them. This is definitely one of the strangest things I have seen in recent memory. I am speechless. This is one of those trends that is "born and bred" to go viral. Honestly, how do you not share this with your friends? It's a clever KFC marketing stunt - one that will make money and increase brand awareness. Every time you see one of these, you're going to think about KFC. It may, in turn, put in a little mind worm to go and eat at KFC. These are literally walking free advertisements for KFC - that people will be shelling out money for! I don't know how much these will cost, but I bet they will be more than $50.
I think a lot of smaller brands could benefit from this kind of collaboration. You reach the other's audience, gain new traffic, and (hopefully) make some money! What kinds of small businesses could your brand partner with? What sort of collaboration could YOU do?
Here's a link to the launch video for the Crocs. It's incredibly weird, and I have no words to describe it other than "Poppy meets KFC."
☠The Death of Brandless
Alas, another Cool brand has bit the dust. In case you didn't know about Brandless, it was basically an online household store (groceries, paper supplies, etc.) that sold everything through its "brandless" brand. Essentially, the brand sought to deposition the importance of brand name and highlight the importance of quality.
The ad copy was really cool, the products were affordable, (At one point, everything cost $3 and below) and the Instagram account was managed very well. It was a unique brand, and I'm sorry to see it go.
Here's a quote from TechCrunch
Brandless, a San Francisco-based e-commerce company that made and sold an assortment of "cruelty-free" products in beauty and personal care, household, baby and pet categories, has shut its doors less than three years after officially opening them in July 2017. In a statement provided to the news outlet Protocol, the company cited a "fiercely competitive" retail market. As part of its shut-down, the company will reportedly lay off 70 employees, with 10 staying aboard to resolve outstanding orders and presumably figure out how to sell its remaining assets. Source
I did a little bit of research - and the death of a brand is an interesting phenomenon in the digital age.
Their Instagram account is still up, but posts stopped about 5 days ago. Everything looks as if it was "live." The Instagram product catalog is still online, and no "Hey we're shutting down" message has been posted. Link
The Facebook account is in a similar situation. Posts stopped on February 9. No "We're shut down" message has been posted. Link
Their website is completely gone except for a "We're shutting down" message. Link
It's almost like walking through an abandoned factory but in the digital era.
Curious about what the website looked like BEFORE it died?
You can see it via the Internet "Wayback machine" here. Keep in mind, this is just a copy of the website - and you can't actually buy anything. It's just a record of what once was.
🥗The Return of Vending Machines
Here in the USA vending machines are pretty boring. You buy a coke or candy bar out of them, and that's about it. Over in Japan, there's 1000's of really cool vending machines that dispense hot food and all kinds of crazy stuff. I've always been slightly jealous.
However, could that change? Could the US start getting some cool vending machines?
Let me introduce you to Farmer's Fridge.
It's a salad/snack/breakfast/sandwich vending machine, and everything looks really tasty. Here's a screenshot from their site of the machine. It's very eye-catching, and the branding certainly stands out. They emphasize freshly made food, and deposition the idea of "vending machine" by using the word fridge. It's a really neat marketing strategy.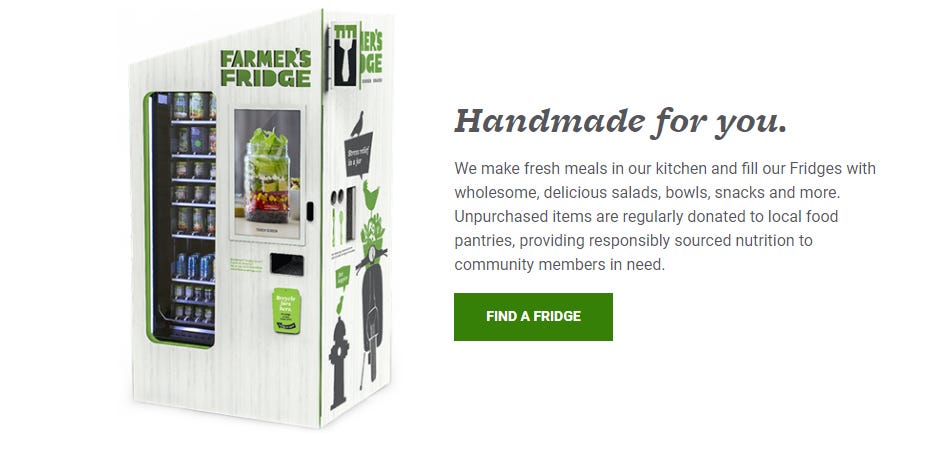 I'd certainly buy one of those - wouldn't you? Here's a snippet of ad copy from their site.
We have a hunch—let's call it a gut feeling—that happiness starts in your stomach. That's why we've set out to remove the roadblocks to eating wholesome, delicious food. Our automated smart Fridges put chef-curated meals and snacks in your hands, in seconds. And to ensure you're getting the very best, we're dedicated to packing our jars full of quality ingredients and delivering meals fresh to Fridges. source
I hope more companies start "fridges" like these. They certainly look delicious. I've always wished for "good" vending machines with real food, and it appears that my dream might be coming true!
Check out their website for more details!
🐙The Land of Random
Here we are back again with the crazy links and I've got some good stuff for you this week!
🚫📱 Rotary Cell Phone
Justine Haupt created her own rotary cell phone, and the thing looks like it's straight out of some 90's Sci-Fi flick. It even has a e-ink screen on the back! You have to see this epic device. You can even build your own if you want to by following her notes!
🤣Coolest Copywriting Site
This has got to be one of the most creative sites I have seen in a long time. Joe Coleman is a freelance copywriter, and you simply slide the scale to choose how he pitches his services to you! It's hilarious - and a great commentary on how people sell their services. Want to see the best version? Slide to the end.
🚨 Sirenhead
There's a creepy popular monster called Sirenhead. Basically, it's this tall spindly creature with "air raid" sirens on its head. The sound is always unnerving, and this monster makes it even more terrifying. Someone has created a Fallout 4 mod with the creature, and it's so creepy!
📱 The Galaxy Z Flip is here!
That's right. the foldable Galaxy phone will be coming out soon. It looks pretty cool, but it'll cost almost $1400. This is the "theatrical launch" trailer for it. I doubt I'll be buying it, but if you're an early adopter - this is the new phone for you!