⚠Cyberwars, 🤑Buy a Banksy, and 🔥🍪Burned Cookies!
Want to buy a Banksy?
Did you know you can watch cyberwars LIVE?
The next time you hear about a major cyber attack - you can watch it happen in real time. Kapersky released a tool several years ago to visualize cyber threats around the globe. I'm not sure why, but it's very aesthetically pleasing. Honestly, I could make this site a wallpaper and stare at it for hours.
It's beautiful and terrifying at the same time! 😆
Want to buy a Banksy?
First off - do you know who Banksy is?
Other than Satoshi Nakamoto or Cicada 3301 (two things we will be discussing at length in due time) Banksy is one of the fascinating people of the 21st Century. He's a anonymous Graffiti artist who tends to make political commentary on various aspects of the West - and his art can be found all over Europe.
He's a mystery. 🤔 Noone knows his identity - and noone may ever.
My personal favorite project of his is his Dismaland project - a satirical amusement park (Seriously). Watch the video! 😲
Anyway, so - back to the point. Want to buy some of his art? Got a spare million lying around you wanna use?
His largest ever piece of work - a Volvo truck covered in art - will be for sale in September. His art has a habit of being worth a lot of money - so it's definitely a good investment (if you're into one million + investments)
The images on the truck show the silhouette of a male figure swinging a hammer towards metal cogs, with flying monkeys and red stars on the background. Across the back end and the reverse side of the truck are a group of soldiers running away from a cannon. The title, Laugh Now But One Day We'll Be in Charge is stenciled above the soldiers' heads, with the word "charge" in large letters. Source
⚠There will probably be a lot of bidders, but good luck! 😆👍
Burn Your Cookies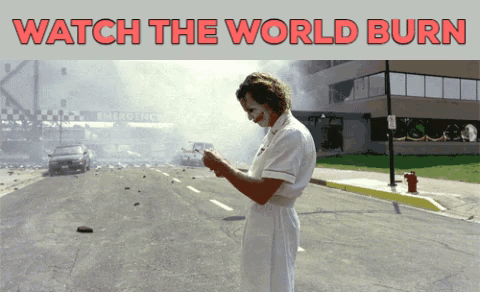 Are you a Firefox user? 🦊 Of course you are - or were. It was only like - the best browser of the 2000's until Chrome showed up to the party (and then Brave, but more on that another issue).
Anyway, they got a cool new tool out that you will ❤ but advertisers will not. 😡
It's called "Track This" and it opens up about 100 tabs of random stores that will confuse all of your advertising cookies for years to come. Really. They will be giving you irrelevant ads for a lonngggg time if you use it. 😆 I prefer my coupon offers, so I haven't tried it.
Check out their cool site. Try it . . . if you dare. 🤔 Don't worry! This link doesn't actually do anything. It's just a link to their site. THERE - you can click on the "open 100 tabs" link.
The Land of Rando
Want to build a website - but don't want to spend A TON doing it? Make a one pager' and it's super cheap too! 👍👍👍👍 They even have a FREE plan. 🙌
Fake news is scary - but NEVER FEAR - there are good guys out there! 😎 Check out this project using AI to detect fake news. On a side note - if a article or video ever feels weird - INVESTIGATE. Don't believe everything you hear. 😀