🦄Build your own SmartPhone, Decorate the Apocalypse, The Future of Coworking,
Add some beauty to the end of the world
Hey everyone! How's your week going? I went down to Ikea over the weekend. My wife was excited about the furniture - I was excited about how many Industrial decorations I could find (I have a slight obsession with Industrial Design). I was also very excited about eating in the Ikea cafe.
Swedish. Meatballs. 😍
Sadly . . . the cafe was closed, much to my chagrin.
I found these . . . and I just don't understand. WHY.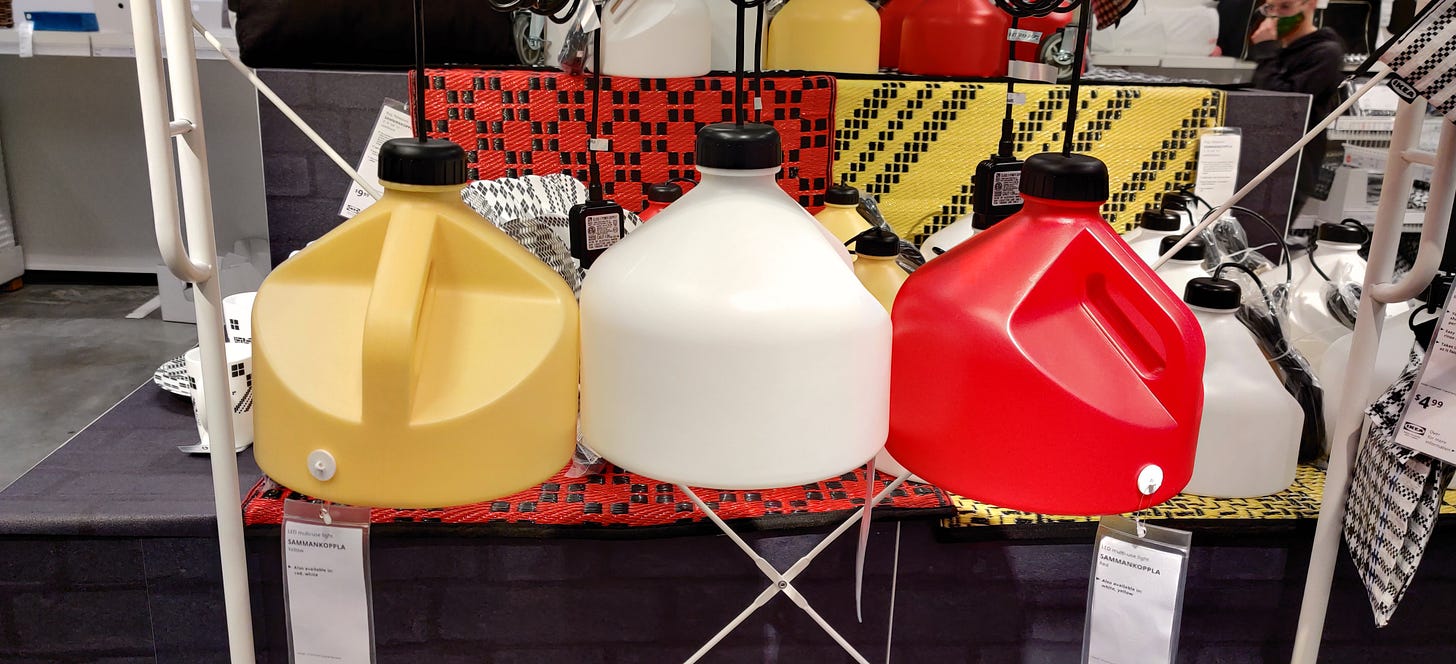 I'm all for experimental art and such . . . but other than maybe a swanky garage, I have no idea where you would put these incredibly strange lights. 🤔
No. I didn't buy one.
The temperature is finally going down here in Tennessee. 70 degrees and cool breezes. If I haven't said anything yet - I do not like hot summers. I love the Fall.
Anyway, let's dive in, shall we? Grab that cup of joe!
🤳Build Your Own Smartphone
I've always been intrigued by the idea of building a smartphone. Think of all the knowledge you would glean from building a phone. 😊
Even if it didn't end up becoming a "daily driver" you'd know far more about the "guts" of a phone than most people.
Heck. It would be the perfect phone for a techy kid, or a first phone. (Want a phone? Build it yourself)
And the eco-friendly possibilities!
Well, I took a look around the net to see if there were any kits out there. Turns out - there's only one decentish looking one you can buy - but first, let's remember the ancient dream.
The 7-year-old video about PhoneBlocks. It's brilliant and smart. The tragic dream of the more eco-friendly and modular smartphone.
Essentially - here's the dream. Customize your smartphone with different modules - from speakers to CPU's. Make your phone as powerful as you want!
Watch the video.
Well, Google liked the idea - and started Project Ara - giving us all high hopes of a customizable modular smartphone. Did you watch this trailer back in 2016? I still watch this every once in a while and I want to cry. 😭
Well, Google canceled Project Ara very close to launching a real product. I was so disappointed!
They even did a demo at a Google event and everything. It was that close.
I'm partial to believing that the project was canceled because it would threaten the entire smartphone ecosystem - you know the one - where you buy a brand new smartphone every freaking year. The one that creates SO much smartphone waste.
Who wants people to customize their phones like clothes? That would be WAY too efficient. Not as much money that way.
Anyway, I bet you're wondering what happened to this kind of idea. Is it still possible? A few have tried.
The Kiteboard DIY phone didn't work out
The Fairphone is a sort of spiritual successor - with swappable modules
The Makerphone is the one true DIY smartphone project that is easily purchasable.
Mashable says it only takes about 5 hours to build -and it looks like the perfect Saturday project. It even makes calls and texts! (Could be the perfect kids phone).
I'd love to build this at some point.
Check it out at the link!
💥Decorate the Apocalypse
Once in a while, I see a game that makes me stop in my tracks in sheer curiosity.
Most of the time when we think of the apocalypse, it's often with thoughts of horror and morbid curiosity. We don't usually attach calming feelings to the apocalypse.
It's either Mad Max, The Book of Eli, or The Last of Us out there - and it's usually stressful (not to mention low on ammo).
Well, you can now attach feelings of calmness to the Apocalypse.
Chill Garden Vibez.
Create beautiful dioramas in the Apocalypse. Arrange your broken cars, empty bottles, and grow vegetation. Here's a GIF from the developer. (Source)
Most of the time I look at these sorts of games, sigh, and move on. However, I was captured by fascinating apocalyptic vibes of the game. Here's their statement.
In Cloud Gardens players must harness the power of nature to overgrow lo-fi scenes of urban decay and manufactured landscapes. By planting seeds in the right places, they're able to create small overgrown dioramas of brutalism and beauty, salvaging and repurposing hundreds of discarded objects to create unique structures for nature to reclaim. Players can dive into a relaxing sandbox mode with no goals, where they are simply left to delight in their own creativity and create beautiful scenes, or take on a "campaign" of six chapters, where the task is to strike a balance between nature and the manufactured by covering each scene with salvaged objects and lush vegetation. (Source)
It's such a fascinating experiment - It almost looks like a digital zen garden. I love the phrase "brutalism and beauty." It's incredibly accurate for this game. 🤣
Check it out at the link.
🌿The Future of Coworking
Have you ever paid for a coworking space? The industry is relatively new, and has gone through some severe growing pains the last few years. For example - the fall from grace of WeWork.
COVID-19 has put a pretty big damper on coworking spaces too. Many people are still working from home, and will be for months to come.
However - there's a new kind of coworking space - and it's got a lot of green.
So Many Plants. 😍 This would be an awesome place to work. Can you imagine working here at night?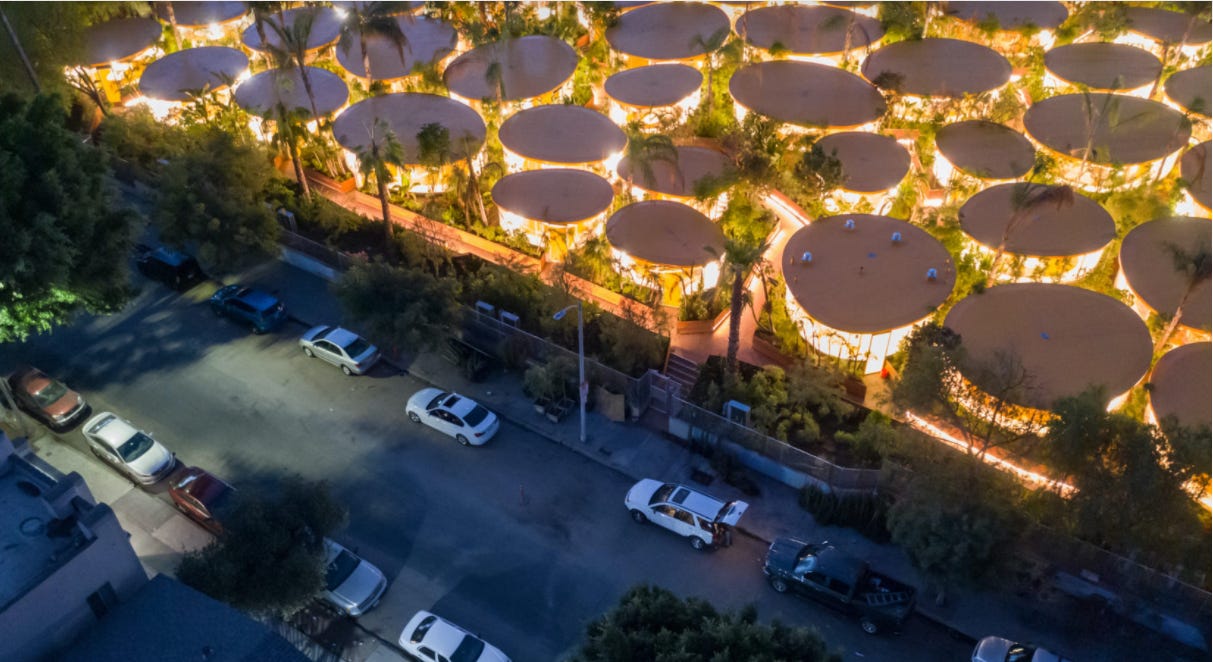 The inside is pretty cool too!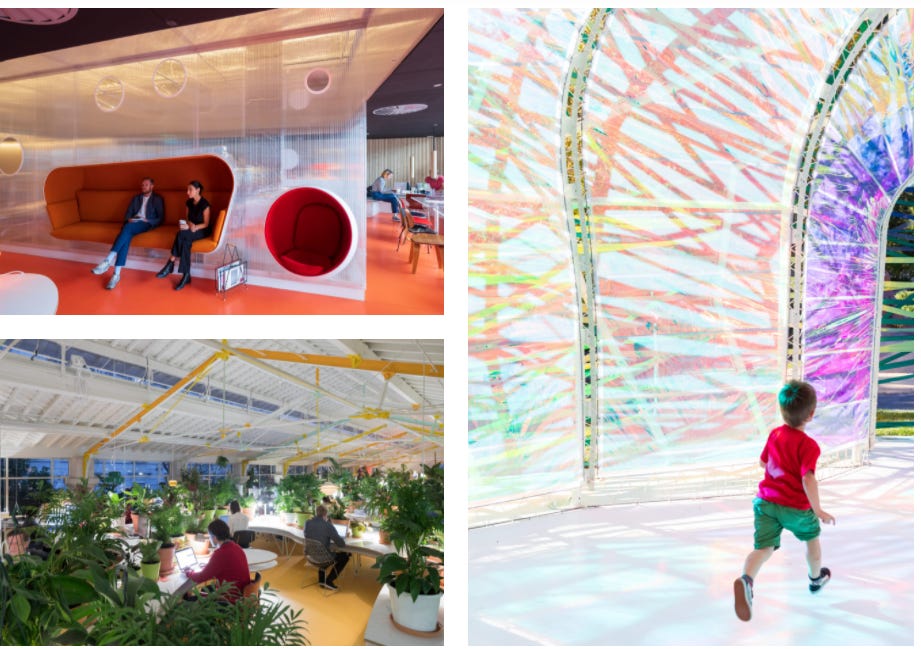 How much does it cost, you wonder? Well, for a roaming desk - it's about $400 a month. That's not bad! You get Wifi, free parking, free coffee + tea, and even kitchenettes!
I think the architecture is awesome, and I appreciate how they've deconstructed the idea of an office. Many coworking spaces have open spaces - but also cubicles and private spaces. These private spaces are literally glass bubbles surrounded by plants! So cool, modern, and green.
I would look forward to working around so many plants. Heck, the location in LA has so many plants that it's considered an urban forest.
The website is also really well made. Make sure you click on the right-hand menu! It's one of the coolest menu effects I've seen in a while.
Check out the website at the link!
🐙The Land of Random
All the random links that you secretly crave.
GoDaddy Checks Your Searches?
Could GoDaddy be buying all the good domain names? This is a rumor at the moment, but it's an interesting conversation on HackerNews
Godaddy responded to the controversy.
Who do you believe?
Jelly Mario
This version of Mario is quite strange and unlike anything I've ever seen. Can you get to the mushroom to start?
Do Not Share Your Passport Number
This wonderful story goes from seeing the Australian Prime Minister's passport number in IG in #boardingpass to low-level hacking and speaking with the Prime Minister himself on the phone. Well worth the very long read.
Create Your Personal Front Page
Sick of seeing the same old same old page when you open your browser? Create your own customized front page with your most used links, custom CSS, and more.
Pepsi Made a Drink for Sleeping
Seriously, it's called Driftwell and it's coming to stores in December. I will definitely be buying one of these to try.
Popup Social Proof
Create social proof popups for your website from actual human reviews. Seriously! This is an entirely new and cool spin on the whole social proof popup idea.
🎵TikToks You Can't Miss
TikTok is not leaving us! Hurrah! I thought I was about to break out the VPN and Android APK's.
Your first taste of Byte
Chalk Warfare Returns!
You wish you had a grandma like this
I want one of these Charcuterie boxes
Did you see the creepy hand? 🤔
Never investigate the noise
Well, until next Time! Have a great week!