🤖AI is Coming for Fast Food, Stolen Masterclasses, and Online Parties!
Go party in an 8 bit digital space
Hey everyone! Hope you're having a great week.
Work is going well, and my little baby girl just got her first tooth!
Speaking of babies . . . here's a free little entrepreneurial idea I just came up with. You see - there's a market for teething bracelets and necklaces. However - there aren't any made specifically for masculine tastes. I even did a bit of keyword research and couldn't find anything.
There's definitely some potential there. 🤔
Speaking of potential, what do you think of Epic Games going to war with Apple and Google over the fees? I think it's been a long time coming - but I wonder how if Epic will have any success?
I gotta say though - Epic's little 1984 PR video was pretty awesome. I can't say that I've ever seen anything like that! Have you seen it yet?
So, we've got some pretty fun topics this week. Let's dive in, shall we? Grab a cup of coffee and let's go! 😊 ☕
🍔AI Is Coming for Fast Food
Have you ever stopped yourself and wondered why every fast food joint wants you to download their app? Chick-fil-A, Starbucks, Panera, Subway, and Sonic (among many others) are always running special promotions to get you to download their app.
Well, there's advantages to tracking your orders over the years. Do you really think they give you free stuff because they like you? They're all lead magnets to get you to spend more money - and predict your behavior. Get enough data and they can start predicting your moves.
Let's say you go to Chick-fil-A every Friday (you use your app religiously) - but then you stop. Using data analysis, they could easily send you an offer on a Friday to tempt you back in.
Ultimate Customization - using data you're happily handing over in exchange for points or stars - in order to build comprehensive customer profiles to determine, predict, and goad you to make your next purchase. Pretty cool right?
Companies like McDonald's and Dominos have been spending millions of dollars to transform their businesses into digital-first AI machines. Read this article and this article for details.
Combine that with partnerships with popular marketing firms to do viral style marketing - and Fast Food may just make a comeback.
Well, the AI world is also coming inside the restaurant too! There's a robot coming to make burgers and fries, and its name is Flippy.
Yes - a robot is coming to join the line cook. It can cook and clean, and it's only a matter of time until it's cooking in a fast food restaurant near you.
Yeah. Watch this video.
You could have two of these making fries and burgers in an understaffed restaurant and take stress off the poor workers. (I remember those days. I wish I had a helpful robot sometimes).
Here's what Flippy can do at the Grill. (Source)
Automatically detects when raw burger patties are placed on the grill

Monitors each patty in real-time throughout the cooking process.

Enables Flippy to switch between a spatula for raw meat and one for cooked meat

Clean spatulas while cooking

Wipes the surface of the grill with a scraper

Counts down cook times for workers and informs next actions needed
Did I mention it can learn too? Pretty cool stuff! I think it's only a matter of time until these are working in restaurants. Heck - I wouldn't be surprised if we saw fully automated restaurants in about a decade or so. What do you think? How long do you think it will be before we see fully automated restaurants?
Check out Flippy at the link!
🤫 Stolen Masterclasses
MSCHF is back at it again with another crazy website. They stole some classes from Masterclass and republished the content in the style of WikiHow. Here are the details.
We stole MasterClass' content and turned it into wikiHow articles. MasterClass is an exclusive online education platform that costs $180 annually to learn (relatively ordinary skills) from A-list celebrities. masterWiki is the direct adaptation of MasterClass' video courses translated into wikiHow-style how-to guides, made available at no cost to you.
There's definitely some grey area here since it's published in the style of a wiki - basically published notes. Very clever!
There's around 20 different wikis you can read. I'm partial to "How to build a fictional world" by Neil Gaiman. Really neat ideas!
For example . . . .
Ground it in realism

No matter how fantastic your world is, even if it's a floating school, include real-world details that are weird and unusual—the smell of cooking cabbage or the scent of unwashed sports clothes in lockers, for example. It will feel real to the readers, but more importantly, it will feel real to you. (Source)
Check out the MasterWiki at the link!
🎉Online Digital Parties!
Ever wanted to join a digital party online, or host your own? Yeah - Vrchat is cool, but there really aren't many options for fun browser based experiences. You have to download this, install that . . .
The trick to getting people to try new stuff is to create a frictionless experience. Think of how hard it is to get someone to install a new app, or a new game - but getting them to type in a website on their laptop? That's pretty dang easy.
Banger.Digital is a digital party experience that feels like a throwback to some old 8-bit game. Here's a screenshot.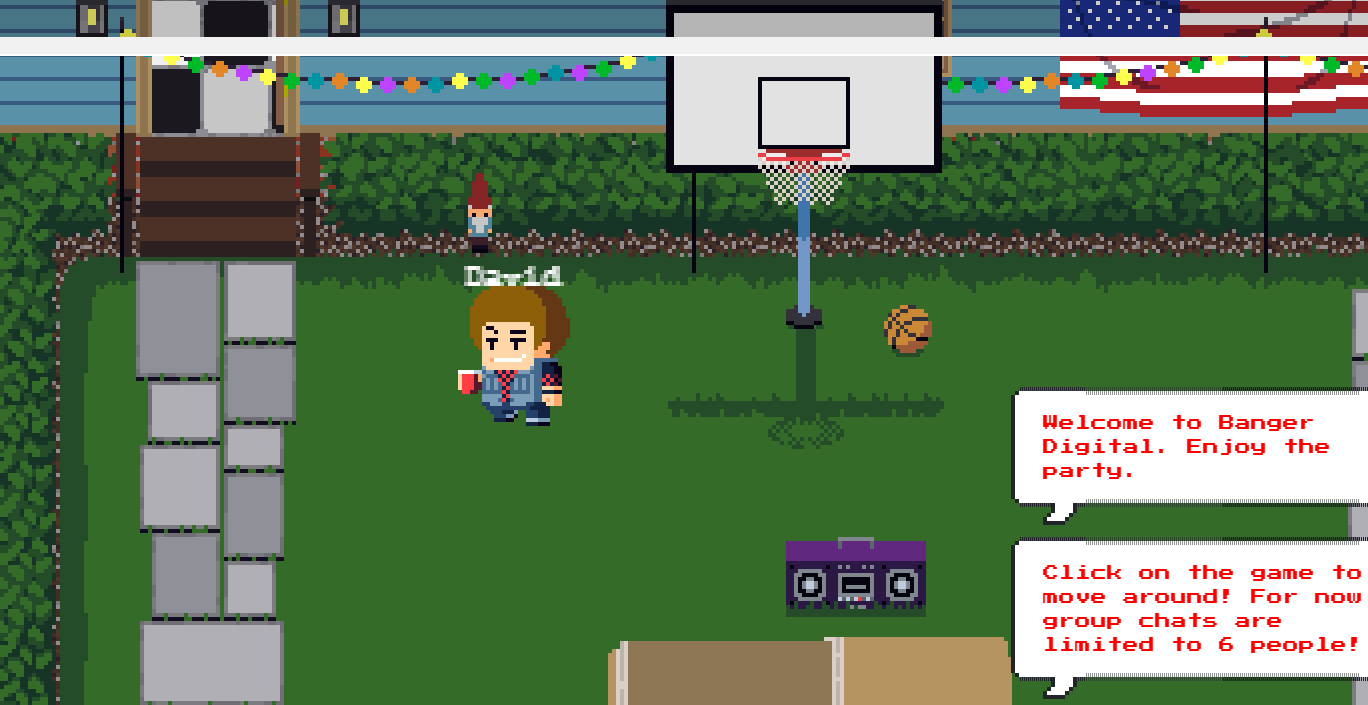 You can invite your friends to a public party for free, or host your own for only 3 bucks a month. That's not too bad.
You can do mic and video chat, and there are even some fun 8-bit games you can play with friends. This could be a great Zoom alternative for those meetings. Right? Nothing like adding some variety to those weekly meetings!
Hey! We should have a Land of Random party. 😆 What do you think? That would be fun! Check it out at the link.
🐙The Land of Random
Random links! You requested them?
Creativerly
This really awesome newsletter is chockfull of tools and resources for boosting your creativity. I've found some really great tools in here. Check it out at Creativerly and subscribe to the newsletter at the link! 👇
Kinopio
Last week I shared that link about Mental Models. This week - here's a tool to actually chart them. Kinopio is a digital tool for creating mind maps, notes, and other things - but visually! 🙂 It's so cool!
Shoppable TikToks
Do you have a Shopify store? Want to cash in on those TikTok influencers but aren't sure how? Well - you can bring the TikTok feed directly into your Shopify Store. This is pretty cool! I found it last week - you guessed it - on TikTok.
The Pie Slice Home
This house is like a pie slice - it starts out ridiculously narrow - but gets way bigger. Seriously! This is one weird-looking house.
Hacking an Exercise Bike
This guy bought a digitally connected exercise bike - but the company went bankrupt. So - he hacked the bike to make it work again! A very cool read.
Guns Vs. Swords
If you needed any more proof that time travelers with guns would wreak havoc in the Middle Ages, here you go. Great art by Oleg Vdovenko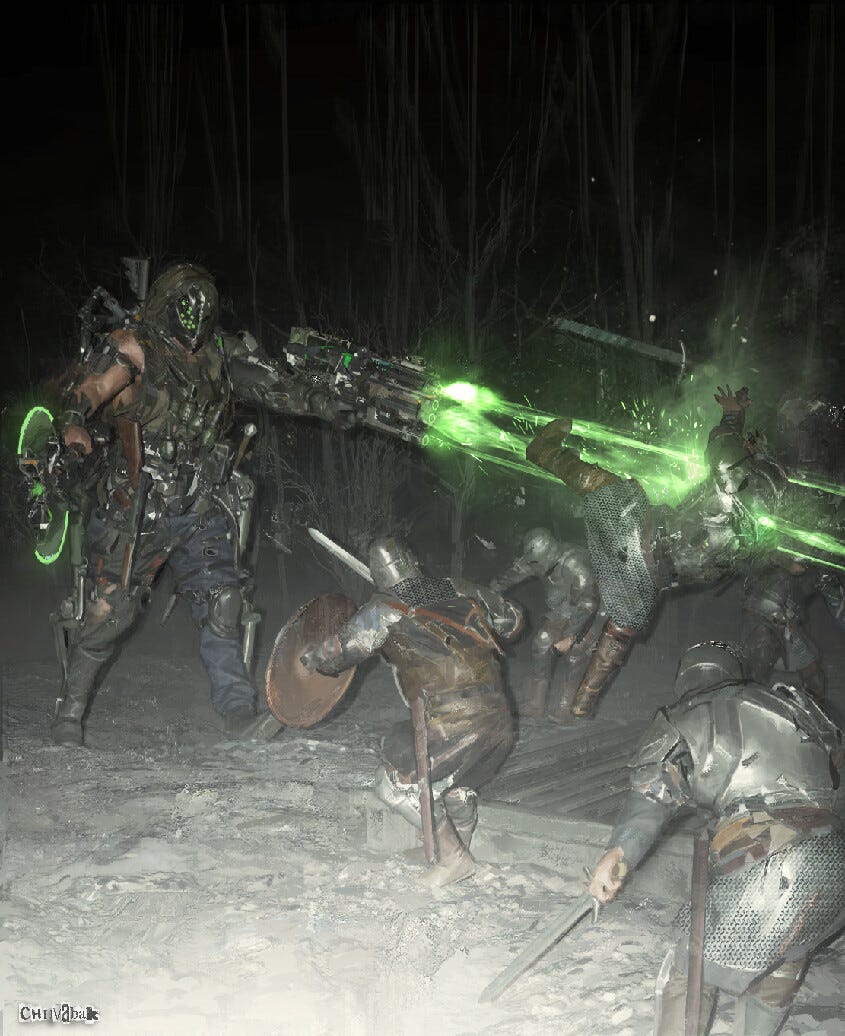 🎶TikToks You Can't Miss
while TikTok still exists . . .
These bottles are literally indestructible
That Glow Up was pretty cool ngl . . .
Japanese loan words are hilarious
I miss these days of TikTok. Ahhh . . . .2018 TikTok was best
Share The Land of Random with your friends? 😊