🎨 Create 1 Second Paintings, Join the Midnight Pub Beta, and try out the Eternal Social Space!
AI Art is just one actual click away
Hey friends! It's another great week. I'm back in Tennessee with my family. We had a great two week trip to Texas, and it was pretty awesome. I just got back a few hours ago - and it's now 2 AM. I'm pretty tired, but I've got a bunch of really cool content for you today!
I'm still on the job hunt, and will hopefully find something soon. I'm hoping to find a role in marketing in the Nashville area, but currently, it's looking the grocery/fast-food world will be calling me.
So, let's dive into today's topics. Grab a cup of coffee and let's go! I honestly should be drinking a cup of coffee right now haha.
🖼1 Second Paintings
Have you ever wanted to create beautiful paintings, but you just don't have the time? Well, now you can create a painting in just one second.
No paint or canvas - just the click of a button.
It's an AI neural network that can generate unique paintings. Here are the creator's words.
1SecondPainting is a deep neural network trained on thousands of abstract paintings, including a number of pieces by Pollock, Delaunay, and more. This deep understanding of abstract art styles allows it to generate dozens of novel paintings in under a second . . . I created 1SecondPainting as a proof-of-concept to assess the utility of modern Generative Adversarial Algorithms in art and design (inspired by Gwern's TWDNE). Technically speaking, the generator implements a pretrained StyleGAN2 network (FFHQ-512) fine-tuned through transfer learning on a corpus of 14,305 abstract paintings. (Source)
It's really awesome! It's amazing what it can create. Here's one that came out for me.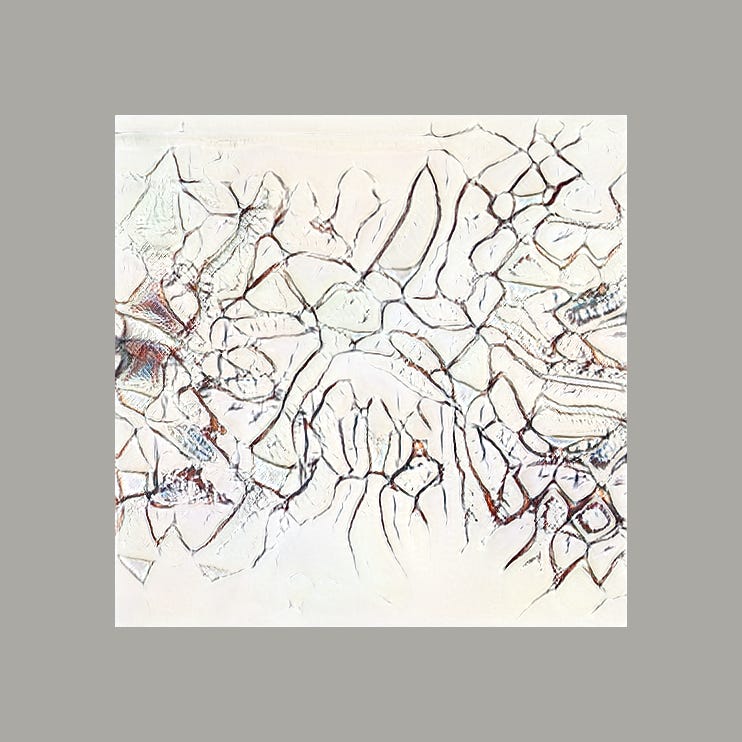 This definitely looks like the type of abstract art you'd see at someone's house. It's crazy to think about. What if you made 2000 of these and asked people to identify real artists from AI ones? I'd bet most people couldn't tell the difference.
It's an awesome little project, and you should check it out!
🍻Join The Midnight Pub Beta
I found out about a cool little social network that's currently in Beta. It's a nostalgic throwback to the comment boards of old but with a twist! It's retro, you can change how your page looks with CSS, and it's set thematically as a pub. It's a great place to post thoughts, ideas, and meet new people.
I really like the minimalism of the platform. No images or distracting widgets. It's quite simply - write. Think of it as a cool little space where you can microblog and do a fun bit of online roleplay.
I've ventured through several other profiles and there's a great deal of curiosity and interesting content floating around. It's really neat! I feel like I stepped back into the early 2000's Internet. I've written two posts so far, but I'd like to write a lot more! I think it will be a great place to post thoughts every night before venturing to sleep.
You can apply for access to the Beta on the site. I have a few keys that will grant you instant access. Send me an email and you might just be lucky enough to snag one.
First come - First served!
🌍 Join the Eternal.Plus Social Space
Yes! I have something else for y'all to check out this week. There's an awesome new social space in beta, and it's awesome. You know Animal Crossing? Well, this is kind of like that - but with more emphasis on hanging out, voice chat, and relaxing. Everything is meticulously crafted with hanging out and relaxing in mind. Here's the crazy part. It isn't really a game. It's a digital experience with some interactions. Don't get me wrong - you can have fun. The platform is primarily for interacting with others.
Here's the trailer.
They also have an AWESOME website. It's fun, and you need to spend some time exploring it. My personal favorite is the PDF zine. It's so much fun!
I believe Eternal.Plus represents a foray into the digital avatar experience. It uses the medium of game to induce conversation. It's like Second Life meets Animal Crossing, but with more emphasis on fun and discussion.
Seriously - I want to have a meeting in Eternal.Plus instead of Zoom. Why do we need to see faces anyway? Why can't we reduce our anxiety and bounce around a planet while discussing strategy and goals?
Let me know if you download it. We can figure out how to add you to my planet "TheLandofRandom" and we can start a Land of Random group in Eternal.Plus. Wouldn't that be fun?
Check out the website at the link! It's currently in open beta!
🐙The Land of Random
I had a hard time just choosing a few links this week . . . .
7 for Seven
Brady Gerber writes an epic newsletter with 7 ideas on writing and creativity every week! It's pretty awesome. Lots of really interesting insights! He also does interviews every month. Subscribe at the link!
Cyberpunk Branding
Sabbath Studio created a cyberpunk-themed branding project for a client and the results are phenomenal. Feast your eyes on these beautiful images. Also - can you imagine getting one of those lime green envelopes? Wouldn't you open it in a heartbeat?
Vaporwave Text Generator
Need some aestheticc text? Say no more . . .
Unstack
Create Beautiful landing pages for your products. I started playing around with the templates and they are really good! Great for getting something up fast when you don't have 15 hours for tweaking Wordpress or Webflow. They have a great free plan! Woohoo!
Bruno Simon
Bruno Simon is a freelance designer who made his portfolio website a literal game! This website is awesome. Chase Curtis showed off this epic website - and I gotta say - what an awesome find! YOU MUST check out this website! IT is SO COOL.
Check out the site at the link!
Curfew Strictly Enforced
A most unsettling scene . . . What horror awaits? By Alexander Mendrajiev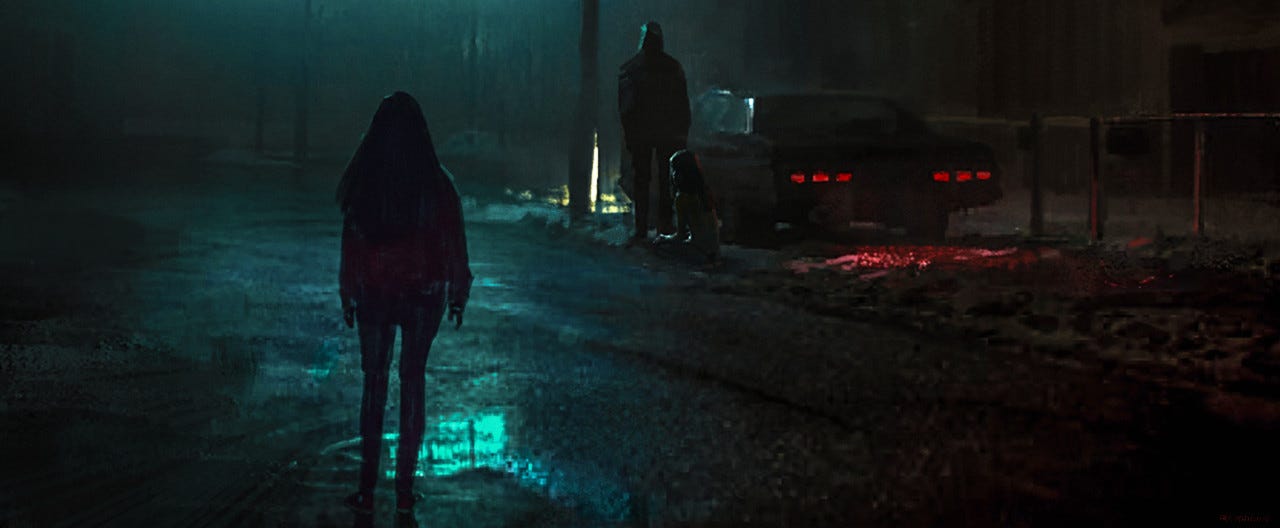 🎶TikToks You Can't Miss
Apparently Cheez-its and Wine is a official thing
Nothing quite like uplifting motivational music from animated characters
This Sushi box has it all. I would eat this whole thing.
Maybe something went horribly wrong at the Area 51 Raid?
Redneck Beer Drinkin' Frogs. Yes.