👁 Clear is After Your Identity, Plant Trees with Your Debit Card, and Generate Your Weekly Meals
Swipe your card to plant trees
Greetings friends! How's your October going?
Mine is going pretty well. Cool weather and lots of pumpkin-themed foods. I'm not quite sure what we'll be dressing up our little baby as this first Halloween. Everyone is doing Baby Yoda after all. 🤔
Hmmm. If you have any ideas, send them my way!
Speaking of crisp weather . . . what about this Crisp Cow?
An excellent question! This cow feels oddly angled. 😊
Anyway, let's hop on into today's topics, shall we? Grab your Pumpkin infused coffee and let's go!
👁Clear Wants Your Identity
Ok - so you've left the house to run on a quick trip to the grocery store. You roam around the grocery store, and reach the register. However, you've forgotten your wallet. And - the grocery store doesn't have a "tap to pay" feature.
However - they do have "Clear Payments." The cashier raises a little scanner and scans your eyeball. It detects your identity, and you scan your thumbprint to confirm the transaction.
Well, they already have something like this in China. Aliexpress introduced "Smile to Pay" a few years ago.
At the moment Clear is just that interesting Facial Recognition system that people use at the Airport. Well, Clear has MUCH bigger ambitions according to OneZero, and they're getting aggressive thanks to COVID-19, as "more than 3,500 documents and emails obtained by OneZero through public records requests shed light on how the company used the pandemic to pivot and help expand its business model beyond getting fliers to the front of the line." (Source) Think about it - "Contactless" is one of the hottest buzzwords around in business.
And what's more contactless than scanning someone's 👁👁 ?
Here's a quote they found from Clear.
"We are a platform company… think about it like Amazon. Once you register, you're tapping One-Click all the time," Seidman-Becker said during an on-stage interview at a U.S. Chamber of Commerce event last year. "Enroll once at the airport: now you can use it at Hertz, now you can use it at the sports stadium, now you can use it at the Seahawks to buy a beer. That is the power of a platform. Now you think about adding hotels, now you think about ride-share… You are your credit card when you enroll." (Source)
Yeah. Pretty crazy stuff. Right now they're focusing all their efforts on a Health Pass which is "a separate app built by Clear that allows a business to track whether employees have reported coronavirus symptoms or received a positive Covid-19 test." (Source) A ton of businesses are probably clamoring for it!
Right now, you might think this is totally science fiction. Surely this won't go mainstream!? Well, you probably didn't imagine six years ago that you'd be using Amazon for practically everything.
Did you?
Check out OneZero's amazing article about Clear at the link. It's 100 percent worth your time.
🌳Plant Trees with Your Debit Card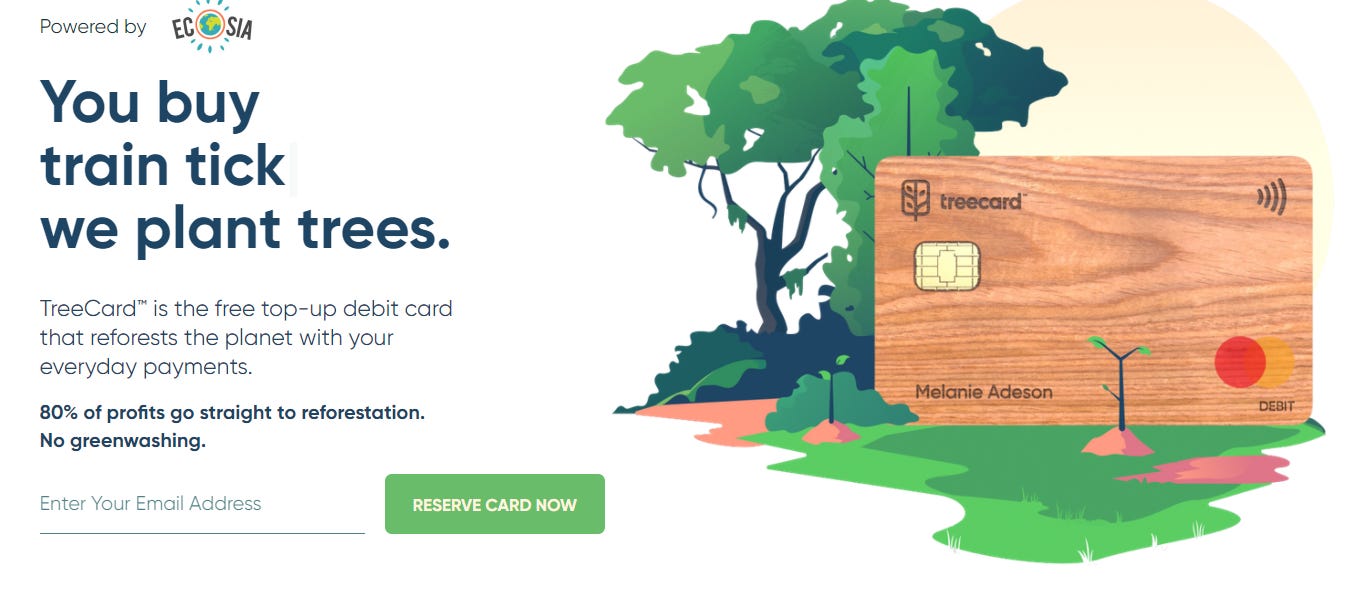 Recycling, Growing gardens - We all do our best to help preserve the environment.
What if there was a way to do it passively each day? With a swipe of a card?
Well, a new company called Treecard is setting out to do just that. Here's one of their stated goals.
TreeCard helps you to make impactful and sustained climate action. Everyday.
There is a cap on how much people can individually afford to donate. We get that. That's why we're offering a 100% free debit card that reforests the planet with every regular payment you make.
How do they do that, you ask?
TreeCard makes money from something called 'interchange'. Every time you use your TreeCard, we charge the merchants (online and physical stores) a small fee. We use that fee to plant trees for you. TreeCard isn't a corporate marketing ploy or a profit-first business: 80% of interchange fee profits go towards Ecosia tree planting projects every month. 🌳
It's so cool! I've never seen anything like it. I guess the company will run off the 20% of those fees left over after the donations - and I hope it's a successful venture that grows quickly like Chime and the other free banking apps!
Check out the website at the link! 😊 I signed up as I was writing this haha. This is my referral link if you're so inclined.
🍴Generate Your Weekly Meals
So, you're sitting at your kitchen table trying to figure out what to plan for this week's meals. You have no idea what to choose. More tacos? Spaghetti? Steak?
Well, I've got some good news! You don't have to stress out anymore.
All you gotta do is head to Meal Suggest and choose the cuisine style you'd like, or more! Want a week full of British, American, and Italian recipes? Well say no more!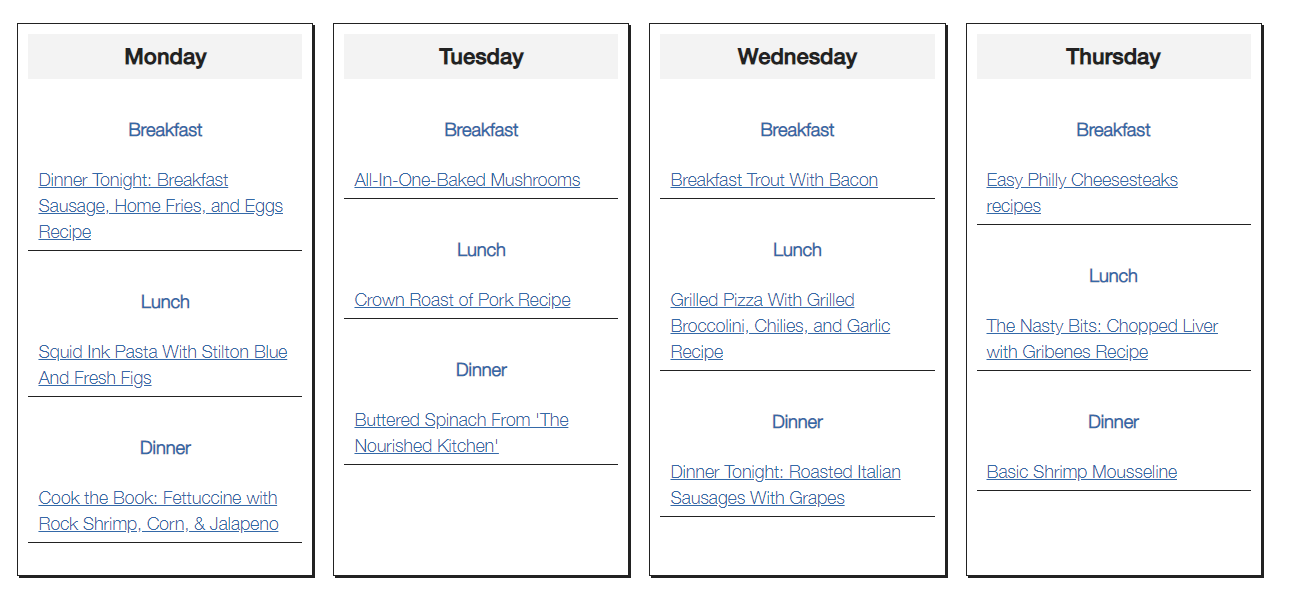 Here's the first few days. It doesn't appear that the links work at the moment . . . but the names are definitely enough to go on.
You can generate single meals, or a whole weeks worth of breakfasts, lunches, and dinners. It's a ton of fun - and I have no idea where all these recipes are coming from.
Well? Are You Ready? Are you willing to generate this week's worth of meals and eat based off the random luck of whatever the algorithm chooses?
Could be a great Social Media Challenge or intriguing high traffic article. 😊
Go Generate Your Meals! 👇
🐙The Land of Random
Random Links for Your Endless Entertainment and Wonder.
The $100 Water Bottle
Have you ever desired an expensive water bottle that dispensed flavoring and pre-workout into your bottle at the touch of a button? Well now you can! This ambitious water bottle does it all. You put 3 flavor capsules in the base, and dispense flavor into the bottle as necessary. Curious? Check out the site!
Flaming Lips and Rolling Bubbles
COVID-19 declared Open Season on the live entertainment industry in March, but the Flaming Lips have found a way around the pandemic. Giant bubbles for everyone! Seriously. From the band on stage to the audience, everyone has their own giant plastic bubble. It's so creative!
Solve The Blair Witch Project Mystery
Ever watched the classic found footage thriller The Blair Witch Project? Well, now you can solve the mystery for yourself in this tabletop game. It comes complete with maps, notes, and all manners of fun things. Honestly, this game seems pretty cool. Play this - then watch the movie? Or Vice Versa?
Write Every Day!
This cool web app forces you to write every day. You can set your own goals, use prompts, and participate in writing challenges. It's really neat! Keep your creative juices flowing! :) I need to do something like this every day . . .
Fortnite The Anime
I'd be down to watch this.
Generate Random 90's Posters
This fascinating little site will let you generate random 90's UK band posters. Serious vibes with every one! Check it out.
🎵TikToks You Don't Want To Miss
This kind of Home Renovation is awesome
Sooooo how much cereal can you eat?
If your umbrella does this, call the Ghostbusters
Not gonna lie, that's pretty terrifying
That's one way to launch a firework
Well, what would you do if this happened?
That's all for this issue of The Land of Random! As always, if you're willing, please share with your friends, family, frenemies, or fans.