😍 Amazon Dating, Hacking Google Maps, and Experience Windows 95!
You want to date the Amazon way, right?
February! The land of Rain here in Tennessee.
Seriously, it's raining just about every day.
Oh - and Valentines Day is just around the corner!
Have YOU bought a gift/prepared some amazing day trip/ done something epic in preparation?
You've still got a few days. Don't worry. Just make sure you buy Flowers and Chocolate EARLY on Valentines Day. They will be gone by the afternoon!
Speaking of romance, have I got a treat for you!
💕 Amazon Dating
A very creative duo decided to create an parody Amazon website for Dating. It's spot on impression of Amazon is very convincing - down to the tiniest elements. Seriously, you could totally mistake this for an Amazon website.
Look. It's incredibly spot on.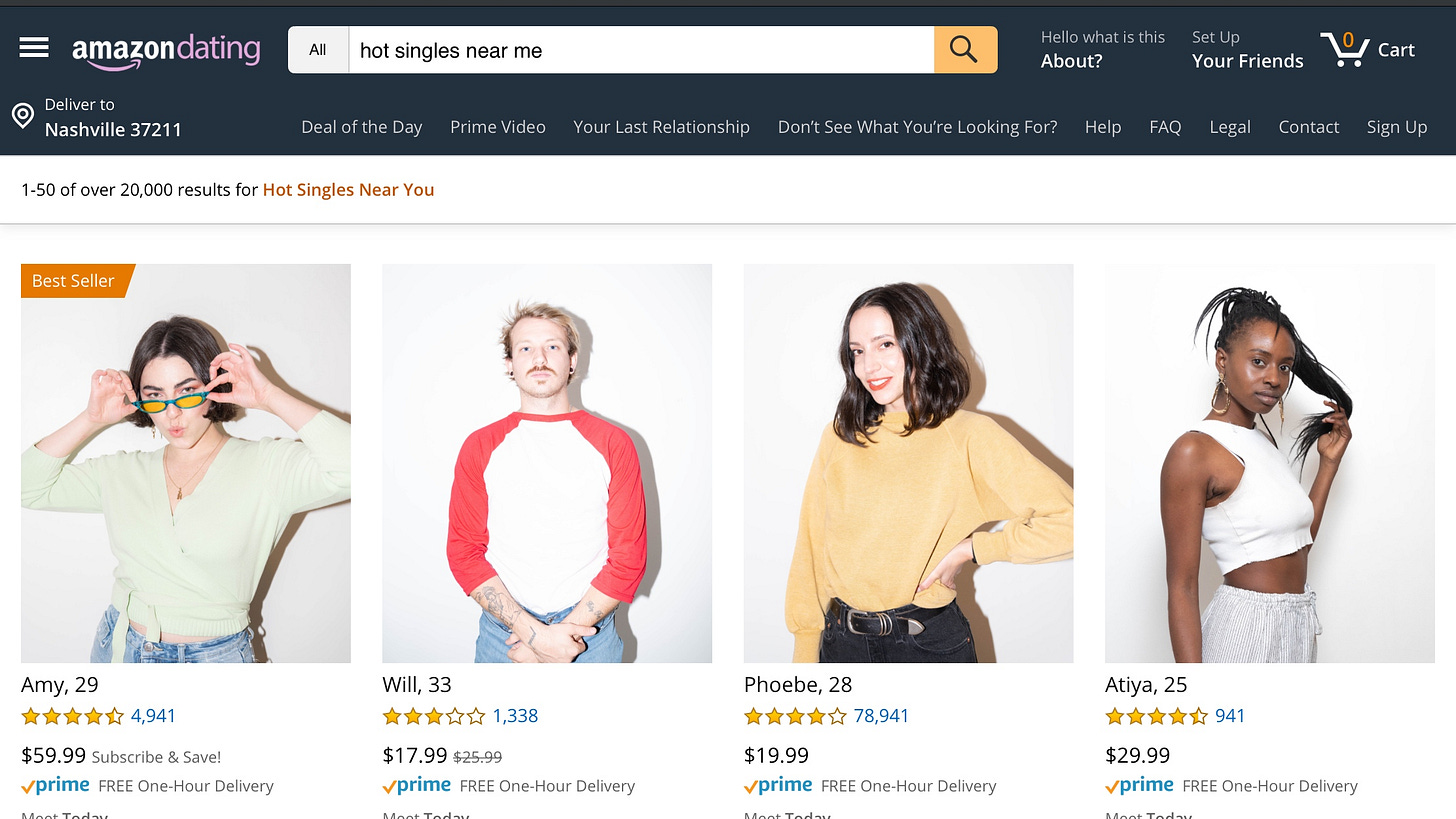 It's such an excellent response to our Amazon focused culture. We think we can buy anything from Amazon and get it in a few hours. Why not Dates? Why can't we buy those too? It's terrifying - and kind of creepy. It kinda makes you stop and think for a moment. Where is our culture headed?
Here's another perspective for you. Think about how viral this website is going. Imagine if you tied some kind of parody like this to your brand. You could get some serious brand awareness from a stunt like this. What kind of brand do you own? What kind of crazy website could YOU make that people would share like crazy?
It's a question worth considering! Don't forget to check it out at the link.
👾Hacking Google Maps
Have you ever wondered about how easy it would be to hack Google Maps? It's all data based on live users. What if there was a way to make fake info?
Well, there is.
Artist Simon Weckert unveiled an ingenious way of hacking Google Maps. In an oversimplified nutshell, it entails dragging a bunch of phones (with Google Maps on) very slowly down a street.
Here, watch the video. It's pretty short!
It's incredible - and slightly creepy. It's not hard to imagine people trying to emulate this for business or nefarious purposes.
Also - think about how virtual maps impact our perception of reality. We perceive reality around what we see in Google Maps. Is it busy by our favorite restaurant? How long will it take us to get the work? We trust in these things blindly.
On his website, Simon Weckert attached a quote by Moritz Alhert, author of "The Power of Virtual Maps." Here is part of that quote.
Google's map service has fundamentally changed our understanding of what a map is, how we interact with maps, their technological limitations, and how they look aesthetically . . . With its Geo Tools, Google has created a platform that allows users and businesses to interact with maps in a novel way. This means that questions relating to power in the discourse of cartography have to be reformulated. But what is the relationship between the art of enabling and techniques of supervision, control and regulation in Google's maps? Do these maps function as dispositive nets that determine the behaviour, opinions and images of living beings, exercising power and controlling knowledge? Maps, which themselves are the product of a combination of states of knowledge and states of power, have an inscribed power dispositive. Google's simulation-based map and world models determine the actuality and perception of physical spaces and the development of action models. Source
It's a mind-boggling question. How is Google Maps reshaping our perception of knowledge and reality? Do we actively organize our life around its whims? Are we driven to buy products because Google wants us to buy them?
I strongly encourage you to check out the article. It goes even deeper into these questions. Here's the link!
⚡ Experience Windows 95
I stumbled upon a fascinating website the other day - through TikTok of all places. There's an Aesthetics inspired company called Vital Studios that has a Windows 95 style website. Yes - you read that right.
When you first enter the site - you see what looks like a Windows 95 desktop - complete with flickery light.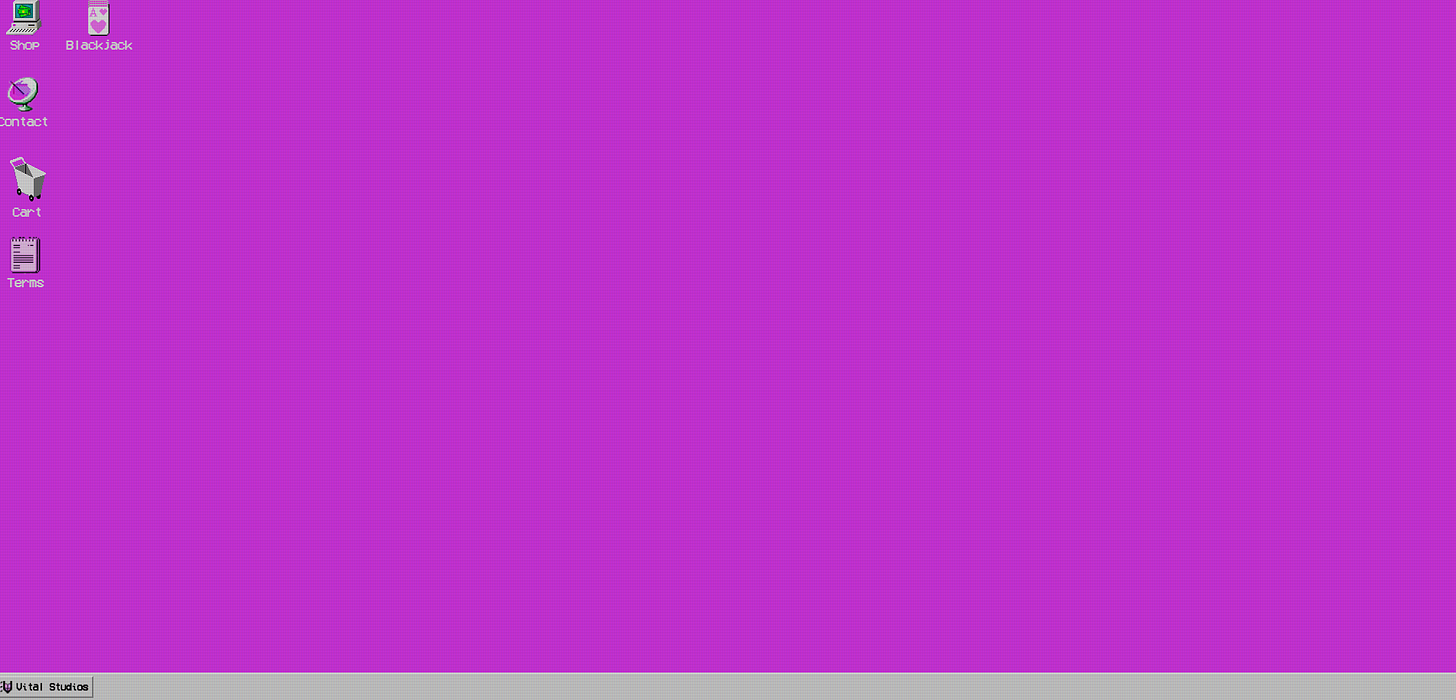 It's very creative! I've never seen anything like it. It definitely stands out from many of the other websites I've seen. You can shop, play a retro blackjack game, and do a few other little things. The single product available for sale (an Aesthetics style hoodie) is sold out - and I'm not at all surprised.
In today's oversaturated market - the only way to get ahead is to stand out. You have to be unique - whether it's your website, sales copy, ads, or other factors.
This is the kind of website that people share with their friends.
Would people share your website? Does anything about your brand say WOW?
It's a question that should always stay in the back of your mind.
With that in mind - I have two links for you today, one to this fun website, and one to some pretty epic WordPress themes I found (They cost money) - including a Windows 95 theme!
🐙 The Land of Random
Here we are again! No Apple Tubas or AI music this time, but some good links!
📱 Galaxy Z Leaked Video
Ooh! Samsung is making another foldable phone - and this one looks a lot more practical. Small jean pockets are rejoicing everywhere!
📍Paint.net - an Oldie but Goodie
Struggling to justify the cost of Photoshop? Well, Paint.net is a free Photoshop Alternative that has pretty good reviews. I will caution that freeware programs such as these sometimes have a pretty steep learning curve, but there's always Youtube. Check it out at the link!
🦆The Annoying Goose Game
Do you remember those little 90's desktop characters that would walk across the computer and do silly things? Well, there's a brand new one - and it's an annoying little Goose. It's one of the silliest things I've ever seen! Heck. It's bringing me a meme right now . . .